The Antidote to mediocre Soho dining
Saturday, March 29th , 2014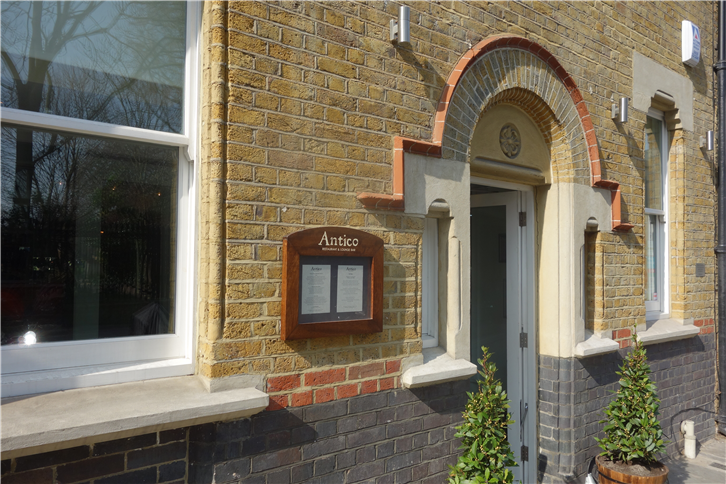 Antico in Bermondsey (pictured) has a connection to Theo Randall, though this casual dining room is a long way from The Intercontinental in Park Lane. The food was very good, with a simple but excellent salad, hearty ragu and delicate lemon tart all of a high standard. Bermondsey has certainly come up in the culinary world in the last few years, and Antico is a fine addition to the area.
Antidote is a Soho wine bar that has been around for a few years, but now has a major change in direction in the kitchen. Mikael Jonsson of Hedone has been appointed to oversee the cooking: he has brought in some new chefs and supplies the produce from Hedone, including the superb bread. The dishes are simpler than those at Hedone, and you will not see the same luxurious ingredients that adorn the Chiswick restaurant's carte blanche menu. However Mikael Jonsson's idea of "second class" ingredients would still put the vast majority of top London restaurants to shame. At two meals early on there were some teething issues, but the second meal was noticeably better than the first, and doubtless this progress will continue. Chocolate molleux with passion fruit sorbet was a star dish, as was excellent suckling pig. This is already shaping up to be better than virtually anywhere else in the area.
I had some "old faithful" dishes at The Square at this visit, such as the signature langoustine tails with parmesan cheesecake and the Brillat Savarin cheesecake. These were as good as ever but a wildly over-seasoned morel dish and a soufflé with the texture of fondant were oddly discordant notes in the otherwise smooth progression of excellent dishes. Such inconsistencies, also found in my previous meal here, are a little troubling given the not inconsiderable price point of the restaurant. In general, however, The Square delivered a most enjoyable meal.
A dinner at Quattro Passi confirmed my impressions of an earlier lunch there. The food is genuinely good, the service silky smooth, but the prices are extremely challenging by London standards. Suckling pig was the star dish and was lovely, and indeed the entire meal was in solid Michelin star territory, However with starters just under £30, main courses around £45, desserts £28 and side dishes £9 or so, I suspect that it will be a major challenge for the restaurant to fill its large dining room.