Venturing Off the Tube Map
Saturday, June 24th , 2017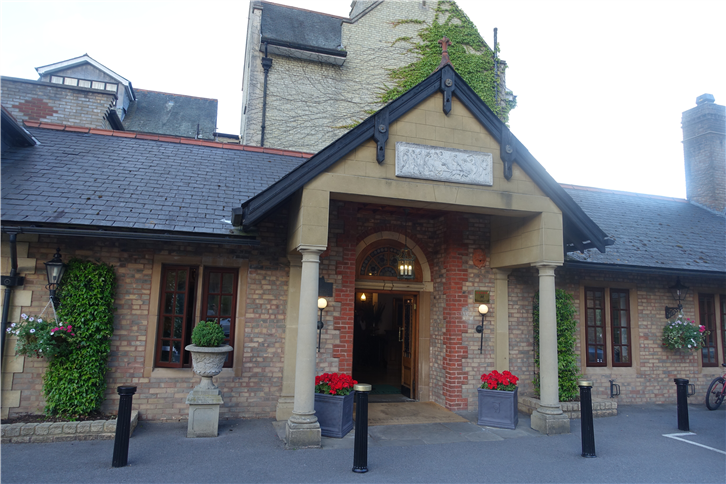 The Red Lion is a Michelin-starred pub in a rural setting in Wiltshire. This is a relaxed place that grows some of its own produce in its own garden, and they even keep chickens to supply the kitchen with eggs. Dishes such as rabbit terrine and a precisely executed monkfish dish showed that the brigade can deliver even when the head chef was away. Not everything was quite to the same standard but this was certainly an enjoyable experience.
The Latymer (pictured) is the flagship restaurant of the Pennyhill Park hotel, a vast luxury hotel complex near Guildford that has a large spa, golf course and extensive grounds. For over a year now the restaurant has been run by Matt Worswick, who took over from Michael Wignall when the latter moved to Gidleigh Park. The dining room has an attractive view over the gardens, and offers a tasting menu for dinner. We had a really impressive meal here, with star dishes including octopus with Asian flavours, and a superb dish of celeriac with black truffle. The bill here seems far from excessive given the grand setting and the skills on show.
Typing Room in the old Bethnal Green Town Hall building cooked me another classy meal, with chef Les Westcott demonstrating the skills he learnt when he was head chef of Tom Aikens' flagship restaurant in Chelsea. Dishes such as pork croquette with smoked apple puree, and cauliflower with raisins and capers were classy. For reasons that elude me Michelin has snubbed the restaurant, despite giving out stars to nearby restaurants that seem to me not even close to the quality of Typing Room.
Swagat on Richmond Hill has had a chef change since I last came here, and not in a positive way. Although some dishes such as the black dhal were still good, the general standard seems to clearly have slipped a notch. This is a shame, especially when you consider that the pricing is quite high for a neighbourhood Indian restaurant.