A visit to Hokkaido, in northern Japan
Thursday, August 09th , 2012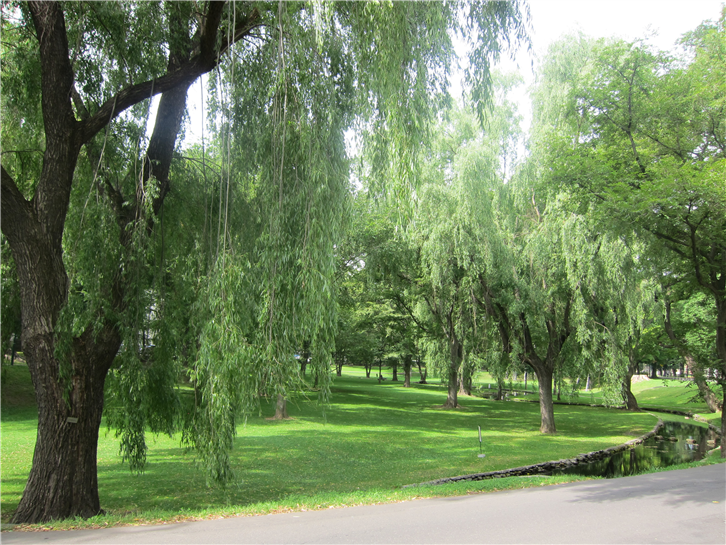 Hokkaido is the largest and most northerly of the 47 prefectures of Japan, an island connected to the main island of Honshu by an underwater railway. Sapporo is Hokkaido's main city, 830 km north of Tokyo. You can fly into Sapporo or take a lengthy 11 hour train ride from Tokyo. If flying in to Chitose international airport then take the airport express train into the city rather than a taxi, as the airport is a long way out; the train journey is 35 minutes and costs less than £10 but a taxi will take at least an hour and will be expensive (around £100).

Sapporo is a large city with a population of around 2 million, surrounded by hills. Modern Sapporo was developed in the 19th century with American assistance, and is consequently set out on a grid system, like Manhattan. It has some nice parks and an extensive and prettily landscaped university campus (pictured). I tried several restaurants within Sapporo, including its trio of three Michelin star restaurants, and also visited Lake Toya, where Michel Bras' outpost in Japan is based. Hokkaido is noted for its seafood and its agricultural produce, with some of the best ingredients in Japan.

Moliere is a French restaurant with Japanese chefs who have trained in France, and delivered a very enjoyable tasting menu. Most ingredients were local to Hokkaido, and given the high quality of these the meal had a good basis; the culinary technique was also of a high standard, with some excellent dishes such as a superb crab dish with radish discs. I was less taken by the desserts, but the savoury dishes were of a high standard, though three stars seems generous.

Nukumi is a tiny kaiseki restaurant with just six seats. This served up a classical kaiseki menu with its usual sequence of dishes highlighting various cooking styles, and included some very good sashimi, as well as some exotic ingredients such as squid intestine. It was very pleasant, though I would not say that it was really in the same league as the top Kyoto kaiseki restaurants, though to be fair it was also much cheaper than these.

Sapporo is not all about traditional food. I also tried La Musee, a fusion restaurant which mixes Italian and Japanese influences with a pinch of molecular gastronomy. This was very capable, with a particularly pretty salad and intensely flavoured courgette mousse for example.

I went to two sushi restaurants, one with three Michelin stars (Tanabe) and one with two stars (Sushi Zen) but had been highly recommended to me by two separate people that know their sushi. Sushi Tanabe was very good, the staff friendly and (a rarity in Japan) speaking quite good English. I enjoyed the local Hokkaido crab best of all, and although the other sushi was good it didn't seem to me that the other sushi, such as the tuna, was quite in the same quality category as the top places in Tokyo. Sushizen seemed to me significantly better, with dazzling sushi. This was right up there with the very best sushi I haev eaten.

Michel Bras is in a luxury hotel in a striking setting, on the rim of a famous volcanic crater called lake Toya, with a view down over the Pacific on one side and the large lake with its islands on the other. The restaurant itself is a reproduction of the original Michel Bras, down to the exact decor and even the identical cep tart amuse-bouche. Local ingredients feature heavily, such as Hokkaido salmon and beef, but the cooking has very much the same style as Bras in Laguiole, and is in no way worse. The view out of the picture windows is breath taking, as is the size of the bill.

At the end of this trip I had visited 108 of the 109 three star Michelin restaurants in the world.

As regular readers will have noticed, the site has been had problems for a few days; this was due to an attack by hackers, compounded by a failure of the backup and a server hardware problem. The site is being worked on and is gradually recovering, but the damage was extensive and will take some time to fully fix. Apologies for this, and if you spot any issues please let me know.