Back to London
Saturday, October 11th , 2014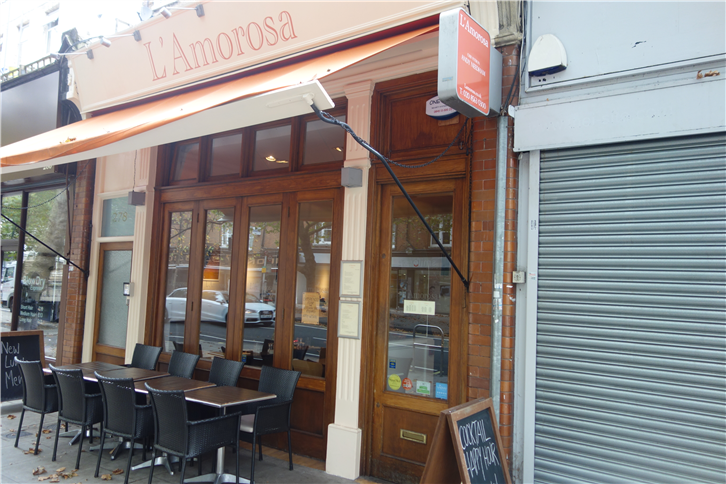 The Butcher's Hook is a Fulham gastropub that recently opened a branch in Ravenscourt Park. Although the modest wine list was priced quite kindly and the bread supplier was well chosen, the cooking was erratic, particularly at the dessert stage of the meal. Hopefully as its young chef settles in the consistency will improve, but at the moment there are superior, and better value, gastropubs in the vicinity.
l'Amorosa (pictured) has now completed its minor makeover and new owner Andy Needham is settling in, producing excellent value Italian food. The former head chef of Zafferano has not lost his touch, and the pasta dishes especially are of a much higher standard than you would expect from a neighbourhood Italian restaurant. This is a great addition to the area, and I for one intend to become a regular.
Pied à Terre is an old favourite of mine across the years, from the days of its chefs Richard Neat and Tom Aikens through to Shane Osborn and now Marcus Eaves. The cosy dining room has recently had a makeover, and the food continues to be excellent. Service under the suave Mathieu Germond is silky smooth, completing the package.
My 51st meal at Hedone confirmed that Michelin missed a trick by not promoting it two stars in the 2015 guide. There may be smarter venues and slicker service operations elsewhere in London but nowhere else in the capital serves ingredients of this quality, cooked in such a deceptively simple and appealing fashion. Attention to detail is shown in the magnificent bread here, which now also graces the tables of Hibiscus, Arbutus and Wild Honey as well as the Soho wine bar Antidote. The menu continues to evolve, with for example an impressive dish of foie gras and cherries at this meal.
The coffee table book "1001 Restaurants You Must Experience Before You Die" was published on October 6th (full disclaimer: this has many authors but I was the largest single contributor to this book) http://amzn.to/1tnCPPh
There are not many theatrical plays about the restaurant business, but there is a great one in London at the moment called Fully Committed, showing at the Menier Chocolate Factory in Southwark. I first saw this a decade ago, a one-man comedy about a head receptionist at a fashionable Manhattan restaurant, fending off celebrities and eccentrics trying to secure a table. It has some brilliant lines, and I highly recommend it. Fully Committed is scheduled to run until 15th November, so book now.
I am pleased to add to the site a chef interview with Peter Goossens of 3 star Michelin Hof van Cleve.