The old and new chefs of Cassis
Sunday, September 16th , 2012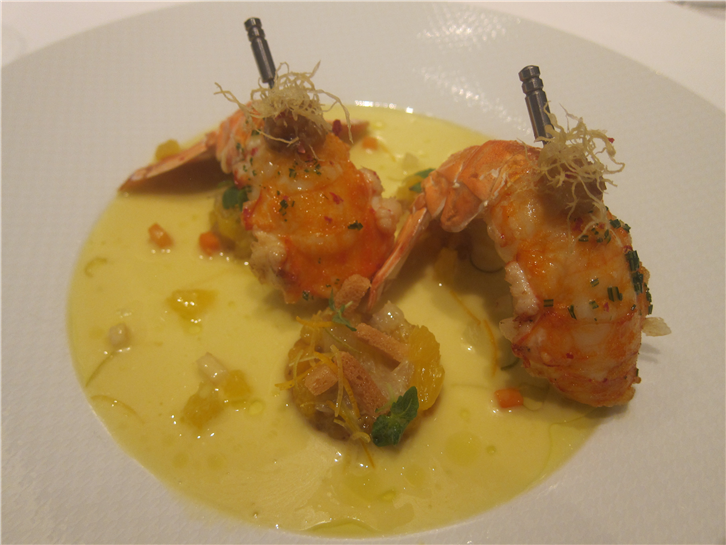 Regular readers of this site will know that I have been impressed for some time with the cooking of Massimiliano Blasone, who launched Apsleys. Recently (as noted in an earlier blog) there was a change of chef there, and Massimiliano has moved to take over the reins at Cassis, in the process switching the cooking style from French to Italian. A few of the staff have moved with him, so it was no surprise that the cooking resembles that of Apsleys. What did surprise me was just how assured things were after just a few weeks. Over the course of a full tasting menu we had some terrific dishes, a pigeon main course in particular was a top drawer dish. The desserts were also of a very high standard.

The chef at Cassis had been David Escobar, who has now opened his own restaurant, a neighbourhood bistro called Chez l'Ami David in an obscure part of Ealing. This is a much simpler and less ambitious place than Cassis, serving French bistro classics to a local audience. A rabbit dish with tagliatelle was good, and the cooking in general was of a decent standard, but the ingredients used were very basic and there were some sloppy touches, which was disappointing given the experience that the chef has. It was certainly cheap, and if you lived nearby would be a nice enough place to frequent, but I just had the impression that the chef was going through the motions.
I am usually sceptical about restaurants with a view, as Hayler's law states that food gets worse as it gets higher - think airline food, for example, whereas places in basements have to try harder. However The Duck and Waffle in the Heron Tower seems to pull things off pretty well. This is mostly simple, casual fare, but was better than I was expecting, and given the stunning views from the 40th floor, frankly a lot better than the owners could probably get away with. There is a premium being paid for the view, but what a view.

I have now eaten three meals at the premises called Hotel de Ville in Crissier. The first was at the end of the career of Fredy Girardet, a highly regarded three Michelin star chef who Joel Robuchon regarded as world class, and who set the restaurant up in 1971. After Mr Girardet retired in 1996 his protégé Philippe Rochat took over, retaining its three Michelin stars. In April 2012 Mr Rochat himself has handed over the reins to Benoit Violier, who had worked in these same kitchens for 16 years after training with Joel Robuchon at Jamin. The meal this week was an absolutely superb display of classical French cooking. The seafood dishes in particular were stunning, such as a langoustine with lemon sauce (pictured), and the quality of all the sauces throughout the meal was remarkable. It is rare for a restaurant to deliver dish after dish of impeccable food, but this is what Hotel de Ville did. Of course this was hardly a bargain-basement meal, but the experience was magnificent, every bit as good as I recall it when the kitchen was headed by Philippe Rochat. This is one of the top 3 star restaurants around as far as I am concerned.