Nothing Left to Chance at The Chancery
Saturday, March 14th , 2015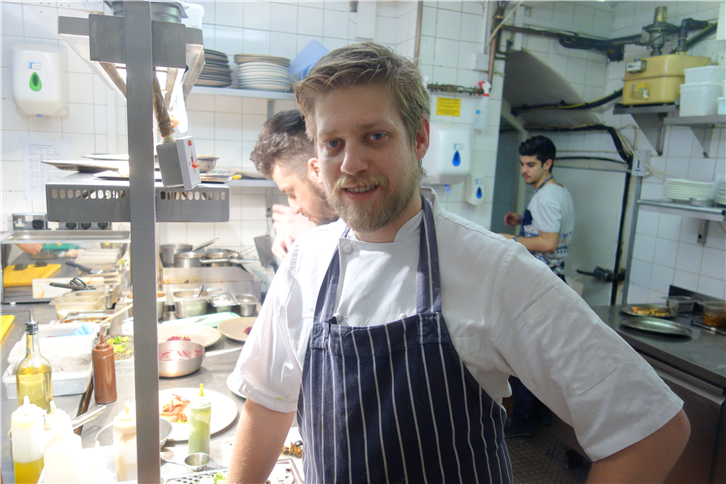 The Chancery has been going for over a decade now, but it recently changed its head chef, and that turns out to have worked well. Graham Long (pictured) was senior sous chef at Pied a Terre before working for a time in Hong Kong, and his experience shone through in an impressive meal. As well as genuinely classy homemade bread, raw scallops with shiso dressing were lovely, as was a venison main course and a rhubarb dessert. Presentation was elegant throughout the meal, service was good and prices fair. No wonder the place was packed out even on a Tuesday.
Madhus at the Sheraton is much smarter than its much older sister in Southall. The cooking also has the edge, partly due to the robata grill that imparts a smoky charcoal note to the grilled dishes. An example is the genuinely classy lamb chop dish here, and indeed pretty much anything from the grill is worth ordering. Romali roti is very good here, the service smooth and prices moderate. A Heathrow hotel may seem an odd setting for an Indian restaurant, but the cooking is excellent.
I had another superb meal at The Ritz, which for me is the most underrated high-end restaurant in London. It is incomprehensibly shunned by Michelin and is invisible to social media, yet the ingredient quality and kitchen technique is impeccable, the service a well-oiled machine and the dining room is glorious. At this meal a dish of native lobster was excellent, as was a whole pigeon deboned and stuffed with chicken mousse and truffles. The pastry section here is terrific, with a flawless Grand Marnier soufflé a fine way to finish the meal.
Tarantella is a local family-run restaurant near where I live. The staff have a lot of charm, and although this is not a destination restaurant, the dishes here are capably made and the welcome is as warm as their Neapolitan style pizza. The pasta dishes are good here and the prices very fair. It is a charming local restaurant just off a high street thronged with soulless chain dining outlets.
The Michelin Guide to the Main Cities of Europe came out. This year was a lower-key event than usual, as the Scandinavian cities were already announced in the new guide dedicated to that region. So in terms of news, this guide now covers eastern European capitals, including Athens. In Budapest there was a new star in the form of Tanti but otherwise the guide was not exactly a thrill-a-minute joy ride. The only two star restaurants in the region are Spondi and Funky Gourmet in Athens, and Steirrereck and Gourmet Restaurant Silvio Nickol in Vienna.