Ups and downs of London dining
Saturday, July 13th , 2013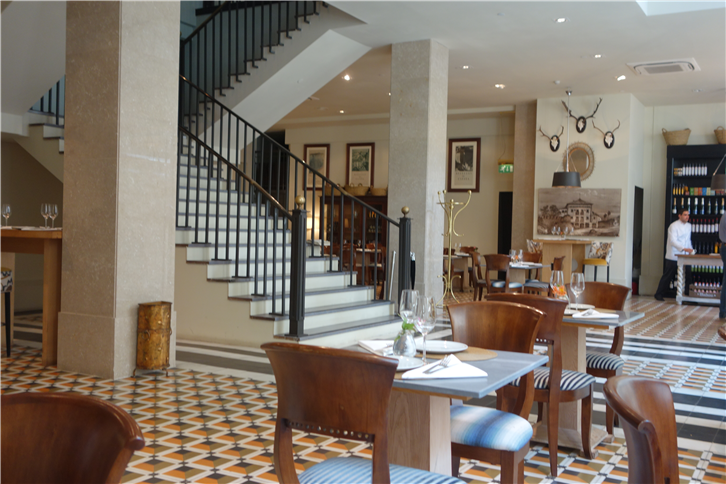 Northall is one of the two restaurants at the very smart Corinthia Hotel, just off the Embankment. Given that Gary Hollihead (ex Sutherlands) is the head chef I had reasonable expectations, but these were entirely dashed when the food actually arrived. We tried mediocre dish after mediocre dish, with food presentation that would look below-par at a suburban dinner party. Seasoning seemed an alien notion here, and other than a decent bream main course the food was of a remarkably low standard, especially given the sky-high prices. A summer pudding was far below the quality that you find in pre-bought packets in supermarkets. I have not had such an overpriced, disappointing meal for years.
Hispania (pictured) is an under-the-radar London opening near Bank, with a tapas bar and deli operating at present. However in the coming months it will become home to an ambitious fine dining restaurant, with an executive chef from Spain who has a Michelin star. The recent track record of such ventures in London is not great, given the train-wreck that is Ametsa, but we shall see. What is without doubt is that the tapas here is excellent, prepared with a level of care and attention much higher than is normal in London. Hispania seems firmly aimed at the Spanish community in London, and I was very impressed by the food that I ate here at lunch. It will be intriguing to see what the main restaurant is like when it finally opens.
I have a soft spot for The Watermans Arms, a basic Brentford boozer that is the unlikely setting for some excellent value Japanese food. Its owner has a Japanese wife and lived in Japan, so as well as knocking out pub grub like fish and chips also cooks tonkatsu and specials such as excellent short ribs with a chilli glaze, which I particularly enjoyed on my last visit. The décor will not win any prizes, but the food is hearty and good, as you might find in a Tokyo izakaya.
Tangawizi is a very good Indian restaurant on the south side of Richmond Bridge, which despite its basic premises produces some very classy dishes. The starters there are consistently top class, but naan bread is also unusually good, and main course dishes like methi chicken are reliable. A starter of chicken with ginger was particularly good at this visit.
In other news, Gordon Ramsays at Claridges is no more. Its replacement is one of the better-kept secrets on the London dining scene. On the subject of iconic restaurants, it is rumoured that Gordon Ramsay is looking to buy back the 11 Park Walk premises that housed Aubergine, the restaurant where he gained much of his initial culinary reputation.
Next week I try will review four Michelin starred restaurants in two very different seaside locations.