Four new London reviews
Saturday, April 30th , 2011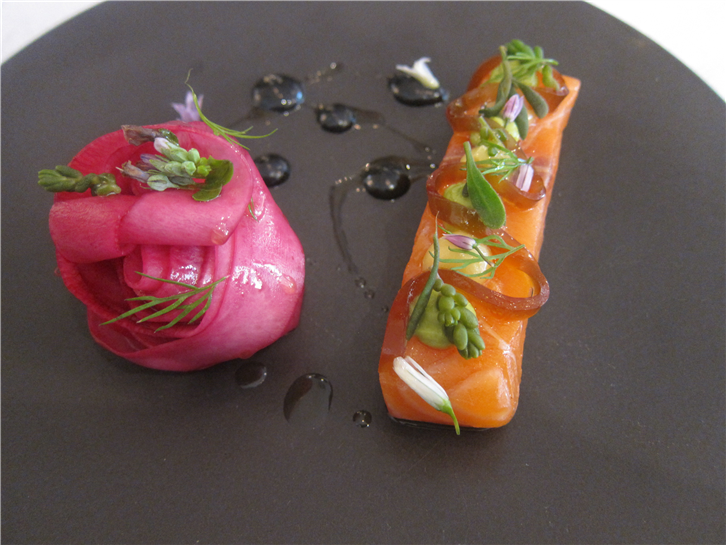 Ilia seemed a little chaotic at times but delivered some excellent Italian dishes. Most of the ingredients come directly from Italy, and this shows in the lovely flavour of the vegetables in particular – such as tomatoes that actually taste of tomato. All this doesn't come particularly cheap, but I would happily return if in the area.
The Mall Tavern is unashamedly retro, serving such reinvented delights as Chicken Kiev and Arctic Roll, which those of us old enough will recall from our childhoods. It was rapidly clear that this was not just a little 1970s joke though – ingredients were excellent, from the Gloucester Old Spot pork used in the pork pie to the home-made bread and the unusually good fennel. Desserts didn't quite match the savoury courses, but this was a thoroughly enjoyable meal, and all at a modest price.

Joe Allen is one of those restaurants that quietly trundles along, without needing to publicise itself. I had been there over a decade ago, and after the meal this week I remember why I didn't come back. The odd thing was that there were a couple of entirely decent dishes, yet other parts of the meal were monumentally bad. It was almost like going through a time machine to eat in an earlier, much worse, era. It is the restaurant that time forgot.

I have squeezed in a couple of visits to Tapas Revolution, which is situated in the distinctly unpromising setting of Westfield shopping centre. This is a place where there are queues for Nando, yet where the only reasonably serious attempt at food (Croque Gascon) died within months: it was as if the crowds here could sense good food and instinctively avoided it. Hence I wasn't sure what to expect from Tapas Revolution, whose owner chef has a highly respectable culinary heritage. There are limitations to the format with no proper on-site kitchen at the bar, but given this major problem the food was entirely decent, and you can always just sit back and eat excellent pata negra.
Pollen Street Social has been one of the most anticipated London openings of 2011, it being the first venture from Jason Atherton outside of the Gordon Ramsay fold. The space has been cleverly designed, looking sleek and yet not too formal, and there are interesting touches such as a bar area serving tapas, and a dessert bar in the main dining room. The cooking was very accomplished on my visit this week, dishes that had a lot of work put into them (see picture for an example) but without being over complex or with too many elements. This has already become one of the most difficult reservations to obtain in London, and I can see why.
Chez Bruce has long been the best restaurant in south London, a hallmark being consistency, as in all of Nigel Platts Martin's restaurants (The Square, La Trompette, Glasshouse). While the meal this week featured very good desserts and had no technical issues, the experience was rather let down by some ordinary fish: farmed salmon had little taste, but I was more surprised by some mediocre mackerel. Service was excellent but the fish quality was rather troubling.

Madhu's is the other high-end restaurant in Southall alongside its cousin The Brilliant (owned by another branch of the Anand family). It was on particularly good form this week, with an excellent biryani (which has always been a strength here) but also lovely malai tikka, with only the breads failing to really stand out. This is high class Indian cooking in smart surroundings at a fraction the cost of central London.

I also had the surreal experience of doing an interview for an Australian breakfast radio show, where "live" meant midnight in the UK, all done from a studio in Soho. We truly live in a global world.
The blog will be a little later than usual next week.