Pub dining in London
Saturday, December 18th , 2010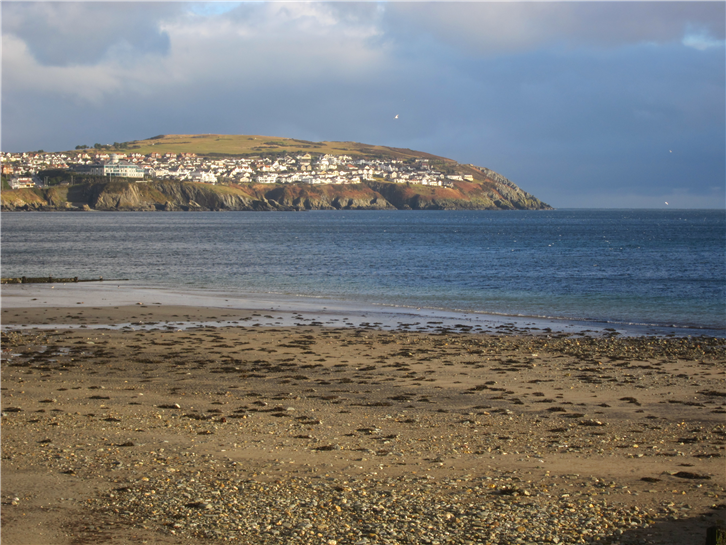 The Havelock Tavern has been through some ownership changes but is performing well with its new chef. Precisely cooked, carefully seasoned food was on offer at fair prices, with only my dessert not to the same high level. This still feels very much like a pub rather than a restaurant with a bar attached, and indeed there are no reservations taken. This was good value cooking.
I also had a short trip off the tube network this week. Quite a way off in fact, to the Isle of Man (pictured), my first visit there. In the Irish Sea, it supposedly has a mild climate due to the Gulf Stream, though the snow falling just before my plane took off suggests that it is not immune to bad weather. Douglas is the main town (population 26,000), which has a quite elegant set of buildings along the beach front. I was able to try two restaurants while there. Jar has a good location looking out to sea, but the service was also all at sea, and the food very ordinary given the hardly bargain prices charged. Chapters was a lot better, offering a tasting menu only of British dishes with some inventive touches; although rather up and down in level as the meal progressed, this was an enjoyable restaurant that is trying to make interesting food, and mostly succeeds.
Apsleys continues to develop its cooking, producing a fine meal this week that was more two star than its actual one Michelin star. I was particularly taken with tagliolini with lobster and almonds with absolutely superb pasta, carefully cooked lobster and precise seasoning. For me this is the best Italian food in London.
High Road Brasserie has a very successful commercial formula, producing simple and pleasant dishes from an appealing menu. It is hard to get very excited about the cooking here, but cod was nicely cooked, as was a sea bass dish, though the fennel with the latter was a little soggy. Still, the queues of people waiting to get in here for a weekend lunch testify to the restaurant's popularity.
I'd like to wish all my readers a very happy Christmas.