The finest of Knightsbridge reviewed
Saturday, June 02nd , 2007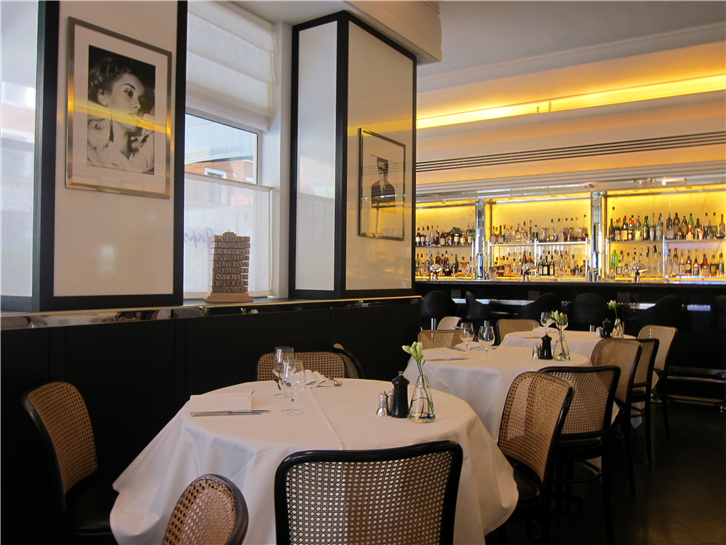 The week started off badly with a troubling meal at the Capital, which for years has been a reliable 2 star Michelin restaurant, with the added bonus of it being fairly easy to get a table. The meal this week not only saw the dessert chef heading off the rails, but serious lapses of technique. Our main courses were just bad, with a sea bream with vegetable dish that was obvious just from its appearance that it had been cooked some time earlier; the fish was indeed overcooked and lukewarm, the vegetables sorry for themselves. Sending back dishes is not something that should happen in a 2 star restaurant; worse, they initially claimed that the dish was fine, which was patently absurd (what do these pesky diners know about food?) . Not everything was disappointing: sweet, perfectly timed scallops with sauce vierge was excellent and the cheese board is the best in the UK (cheeses from Bernard Antony here) but there were too many lapses of technique. Langoustines with a nice "Nicoise" theme were rather overcooked, while a passion fruit and banana jelly had so much banana flavour that you could not taste the passion fruit. The piece of duck I had was cooked pink but was so rubbery I literally could not cut it with my knife: "ah, you'll be wanting a sharper knife sir" was really not the response I was hoping for.
Foliage gave a much more assured performance, delivering a tasting menu that had virtually no slips at all. The cooking here has a slight tendency towards over-elaboration, as Chris Staines strives towards a second Michelin star (it was an espoir or "rising star" 1 star in the 2007 Michelin Guide). Ingredients are good quality, technique was let down only by a scallop that was a little overcooked (which didn't happen at my last meal here a couple of months back) amongst the many courses on offer.
Reliability is a hallmark of Hakkasan, which along with its sister Yauatcha delivers the best Chinese food in London and pioneered the trend towards serving Asian food in smart surroundings. The basement dining room is a miracle of design, managing to create a beautiful, intimate space for dining. Technique here is superb, with impeccably cooked spicy prawns with a broth showing careful control of the chilli flavour. Similarly a Dover sole has very tender, and had spinach so good that it could have graced the table of a top French restaurant. Soft shell crab was as good as I have eaten anywhere. This is a restaurant that really deserved its success; as a bonus it serves excellent and interesting cocktails. What is less forgiveable is the beer mark-up; there is just one beer offered in a 500 ml bottle, and it is, wait for it, £9. This is going too far in my book. Stick to Jasmine tea (there is actually quite a good wine list also).
High Road House in Chiswick is a at a lower culinary ambition level, but has also managed to create a highly successful formula, with booking stretching out a couple of weeks ahead even on a weekday. The secret here is a very appealing menu (part of the reason the rather ordinary Ivy has done so well) serving bistro classics, but also throwing in a few interesting alternatives, such as an excellent iman bayeldi. The duck main course is very well made here, and rather better than the general standard, which hovers around the 2/10 or 3/10 level; desserts can be a let down, with an overcooked tarte tatin tonight.
I have trouble getting through a week without Indian food, and this week we headed off to the other restaurant in Southall: Madhu's. This was the first restaurant in Southall to go up-market, with genuinely smart decor. Particularly impressive was tender tandoori salmon, and the birianis here are probably the best in London. Garlic naan bread is also very good, the only minor let down being a slightly soggy bhindi. Service is classy here, plenty of French restaurants do not do as well.
Finally we had another trip to Agni in Hammersmith, and had another simple and enjoyable meal. The chicken tikka here is done in three different styles and is very tasty, while the vegetarian snacks e.g. aloo papri chat, bhel poori, are also very good. King Street has over a dozen Indian restaurants and almost all are just bad, but this is clearly in a league above the others.