Dining in SE1, and other stories
Saturday, October 15th , 2011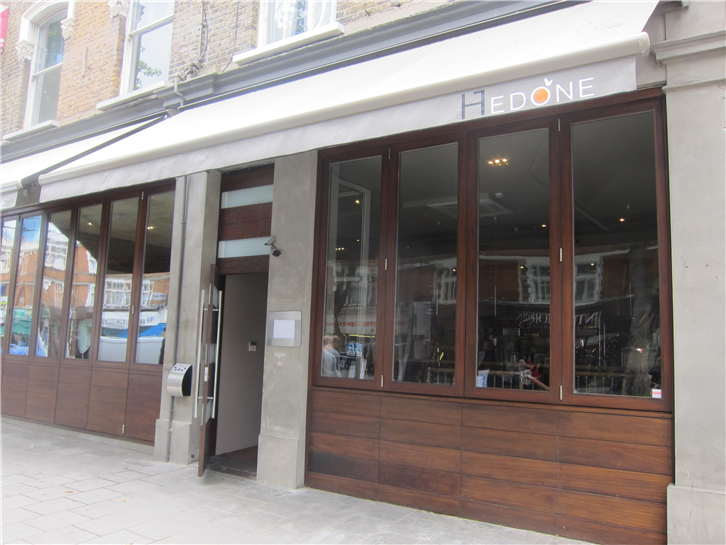 Jose is the tapas bar creation of Jose Pisarro, previously co-founder of Brindisa. There are no reservations taken and the space is tiny, packed out even very early on a weekday evening, so we ended up eating our food standing up off a window ledge, squeezed into a corner. The tapas was quite good but if you are planning a visit then don't bank on a leisurely, relaxed dinner.
The Anchor & Hope is a place that I have never had a particularly good meal at, despite its reputation, and I thought it was time to give it another shot. My meal here was much as I recall it, uneven to say the least, and in this case with some truly dire service thrown in. It is particularly interesting to consider the price for lunch here and compare it to the kind of special offers for lunch you get at most Michelin starred restaurants in London.

At my twelfth (!) meal so far at Hedone I had a couple of new dishes. I was particularly impressed with the depth of flavour of the chicken, which was no ordinary bird. Many top London restaurants (including Michelin starred places) use either Label Anglais chicken or (more likely) Poulet Noir, which are decent but do not compare with the flavour of good chicken that you can get in France (the chef at Hedone uses Poulet Noir chickens, but only for making stock; he considers Label Anglais chickens not good enough even for stock). This evening the bird was from the Loire: Geline de Touraine chicken, which had that wonderful deep chicken flavour that people vaguely recall that chickens had in childhood, but probably never really did (at least not in my childhood). In addition the Hare Royale was an excellent preparation of this classic dish, with fine foie gras, superb, rich hare and a lovely jus. Scallops (pictured here) were lovely and sweet, a huge contrast to the tasteless scallops I ate last week in San Diego (the sugar content of scallops drops the longer they are out of the water, so sweeter scallops will normally be fresher). The chocolate bar dessert has also developed since the early days here, and is becoming really classy.

Yauatcha is an impressive operation, never seeming to put a foot wrong despite its scale (on a busy night they will get through a little matter of 600 covers). Old favourites like har gau and the venison puffs were as good as ever, and service is silky smooth. I cannot recall having a problem dish here over many meals, which is remarkable given just how large the operation is (with no less than 50 chefs working here in all).

Kiraku is a terrific place, an unassuming Japanese restaurant in Ealing that specialises in grilled food. I have tried a few dishes here on prior visits, and this time opted for grilled eel on rice: presented in a pretty box, this was an excellent dish and a lunch by itself. If you are ever in west London and fancy a Japanese meal, this is surely your best bet. It is also almost absurdly cheap at lunch.

The Michelin lists on my web site are now fully updated, and the maps have been substantially revamped, now with a preview and photo if available on each map flag. The 3 star map is here and the UK map here.