From Egham to Mayfair
Saturday, October 05th , 2019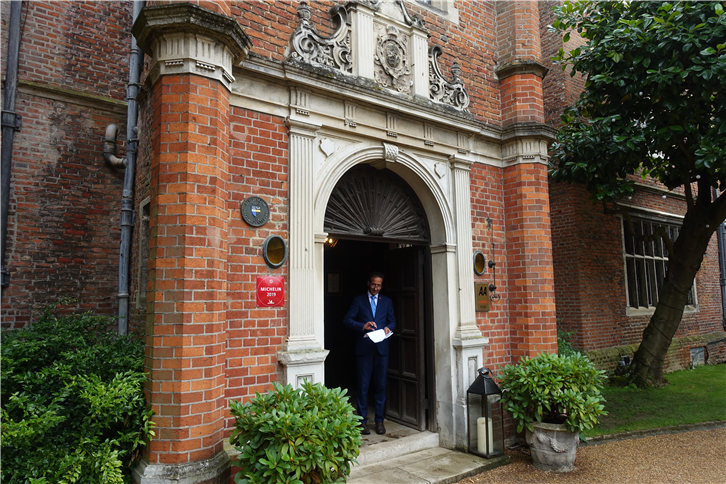 The Tudor Room at the grade I listed 16th century Great Fosters near Egham (pictured) has had a new chef for the past few months. We tried quite a lot of dishes in a lengthy tasting menu and the standard of the cooking was high. I particularly liked a dish of roast sea bass in a superb Thai flavoured broth, but there were several other good dishes. The building is rather grand and the standard of food matches the surroundings.
Benares is one of the longest established of London's high end Indian restaurants, located on Berkeley Square, though I have never been a big fan of the cooking there. Although the restaurant is still expensive, things have taken an upward turn on the food front with a new head chef, Sammer Taneja, who impressed me with his food at the rather oddly located and decorated Talli Joe. We had a slightly uneven but good meal there, with a few real highlights such as a fine venison dish and a terrific paratha. It will be interesting to see what happens as the new kitchen regime continues to settle in.
The Ritz is my go-to place for fine dining in London these days now that Hedone has closed. This meal combined tried and tested dishes such as the superb langoustine in herb nage with newer dishes including hay-roasted sweetbreads and a superb beef dish with lovage oil and a gloriously rich Bordelaise sauce. When you consider the slick service and magnificent dining room, the Ritz delivers the complete package. Nowhere at present is cooking better food in London.
The Washington D.C. Michelin 2020 Guide was published, with no change at either the two star or three star level. The Inn at Little Washington is the solitary three star, and Pineapple and Pearls and minibar remain the pair of two star restaurants in the city.