London gets a proper sherry bar
Friday, May 20th , 2011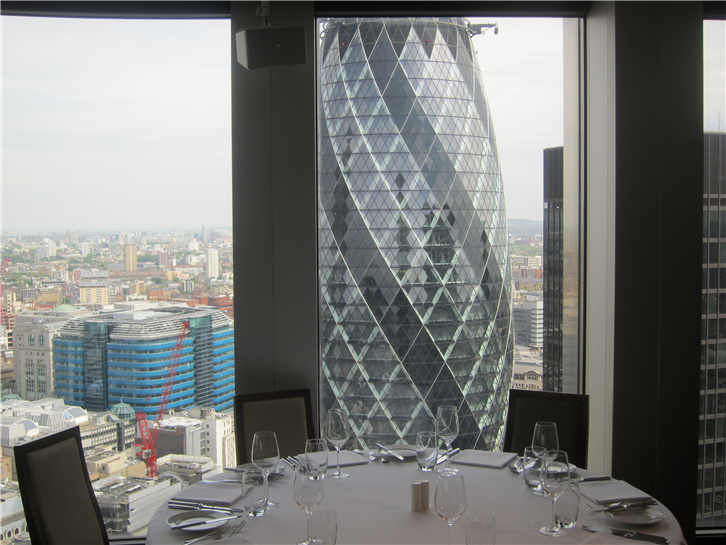 Rhodes 24 does not get a lot of press but does have both a Michelin star and a spectacular view (pictured) over the City from its 24th floor position. My meal this week was very capable indeed, fully star-worthy, and it is only the costly wine list that raised any concern in my mind. If you are looking for high-end food in the City then you could do much, much worse than this.
I am quite fond of sherry, so was always likely to enjoy a sherry bar serving authentic tapas. Capote y Toros is the little sister of the excellent Cambio de Tercio, and served us some very good tapas dishes this week as we explored the delights of a flight of sherries. It really did feel like a little bit of Spain transported to London, and the packed premises early on an early weekday night suggests that this is an appealing combination.
Spuntino emulates a New York diner, and serves comfort food on uncomfortable bar stools. This is not somewhere to linger, but I enjoyed my remarkably calorific lunch this week, the star of which was classy macaroni cheese. Even on a Tuesday lunch time the place was full by noon, so the formula is clearly working well.
I tried two gastropubs this week, one of which had good food let down by dismal service, the other with good service but rather ordinary food. The Fox and Anchor is just off Smithfield Market and served an excellent chicken pie amongst other things, but I encountered some of the rudest service I have come across for quite some time. It was pretty clear that the staff couldn't wait to see the back of us on the night of our visit, and I am happy to oblige them by not returning. This is a pity given the quite good food I ate there.
The Ealing Park Tavern had pleasant service and decent enough food, though its fish and chips suffered from poor batter. However other dishes were fine, and it is only when I consider the bill that I question the value for money here, at least at lunch time.
Best wishes to chef Shane Osborn,who leaves Pied a Terre today to go travelling.
The blog will deviate from its usual schedule in the next couple of weeks.