Three London starred restaurants
Saturday, September 16th , 2006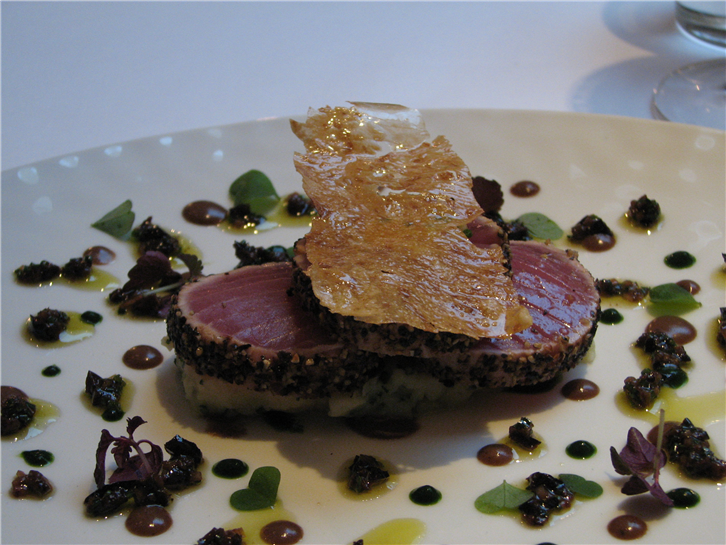 I ate at three successive Michelin starred restaurants in London this week, but each is very different from the other. Pied a Terre is one of London's top five restaurants by any standards, with two Michelin stars. This is the sort of food that you could never duplicate at home, if for no other reason than the sheer amount of manpower involved. There are half a dozen different amuse bouches, for a start, each an exquisite morsel which sets the scene for the dishes to come. Scallops and langoustines were of high quality, the scallops plump and lightly seared, the langoustines tender as could be, served on a tarte fine of wild mushrooms (a tuna starter is pictured). I followed with sea bass cooked in a vacuum bag at a low temperature (the French call this "sous vide") which gives the fish a surprising, silky texture while still retaining the distinctive taste of the bass. This technique was invented by chef George Pralus at Troisgros in the 1970s, so is hardly new, but has become very fashionable recently e.g. with Heston Blumenthal at the Fat Duck making much use of it, while trendy US chefs have also recently become enamoured of it. It certainly works well with sea bass, retaining flavour and yet giving this unusual, melt-in-the-mouth texture. For a main course I had excellent duck with a superb demi-glace, which is made here with chicken stock rather than the classic way with veal bones. Bittersweet chocolate tart was a rich way to finish the meal, the tart accompanied by stout ice cream (no pun intended). Petit fours are, as ever here, a display of technique, with several near perfect jellies, an array of chocolates and a little toast rack of tuiles. The small dining room here encourages an intimate atmosphere, and the service is about as good as you will encounter in London.
Yauatcha perhaps did well to get a Michelin star, but then again its dim sum cooking is every bit as good as Hakkassan, so why not? (here at least. Michelin is consistent). Despite the very limited seating times the service is sufficiently slick as for you never to feel rushed (there are no desserts, which helps speed things along). Highlights here include a baked venison puff with excellent pastry, cheung fun without a hint of sliminess, salt and pepper quail with vivid seasoning, light and fluffy char sui buns, delicate steamed dumplings such as har gau, and so the list goes on. Some dishes may excite less than others, but this is more an issue of personal taste than any inconsistency of standards.
Zafferano is, as regular readers will have detected, my favourite Italian restaurant in London, even if the chef is an Englishman. A salad of cuttlefish featured the truly excellent ingredient components that Zafferano bases its success on (if you are doing food this simple, then you had better get hold of high quality ingredients). John Dory fillets were a new menu item, cooked simply with a few girolles, while apple tart is an Italian take on the classic, here with delicate pastry flavoured with apple rather than cooked in the French style with slices of apple neatly arranged. This is another place with service that is hard to fault, the staff under experienced maitre d' Enzo now fully settled into their larger premises.
On the food critic scene there was a major event. A fond farewell to Andy Turvil, who stepped down as editor of the Good Food Guide after four years as editor and no less than 16 years with the Guide. The new Guide is due out on the 3rd October, and as ever is eagerly anticipated as the UK's most authoritative restaurant guide. Best of luck to Andy in his future career.