Time in Tokyo
Saturday, December 07th , 2013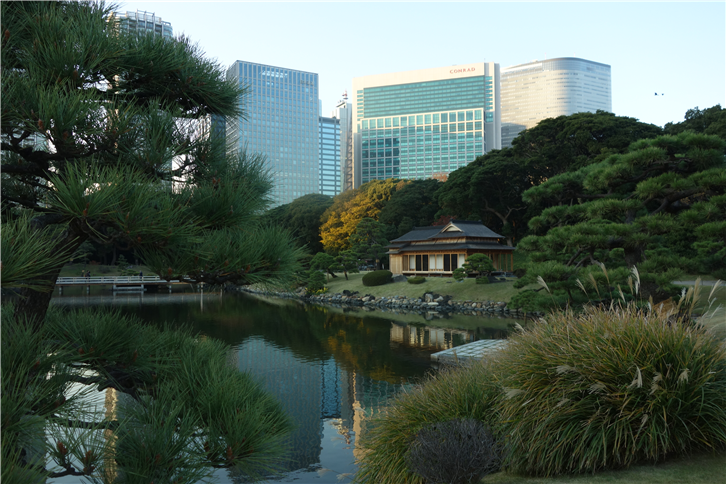 Den is currently the number one rated restaurant on the Japanese kanji restaurant site Tabelog, and had two Michelin stars until this week. It is very different from the formal kaiseki restaurants of Japan, the young chef having an obvious sense of humour, the dishes often witty as well as delicious. The staff are great here, and it is well worth trying to get a table.
Sushi Taku has had two stars since Michelin came to japan in 2008, and seemed to me to deserve this rating, with consistently excellent sushi. Narisawa (formerly Creations de Narisawa) is a very modern fusion restaurant, the chef there having being likened to the Heston Blumenthal of Japan. The dishes there certainly have a lot of effort put into them, though I found the standard rather variable. It had a very hushed atmosphere and the staff took themselves quite seriously, very different to the light-hearted atmosphere of Den. One oddity is that Narisawa is currently 20th best restaurant in the world according to the San Pellegrino list, yet on my site I have 20 restaurants scoring higher in Tokyo alone. This is not a reflection on Narisawa, which is a very good restaurant, but on the oddities of that particular list, which includes a laughable total of two restaurants in Japan (the other being the superb Ryugin).
Atelier Robuchon was actually the first of its breed, the initial Paris branch following soon after. What sets the Tokyo branch apart is the high quality Japanese ingredients, with considerable seasonality reflected in the menu. The staff were also very good indeed, and this felt like a clear step up from the London Atelier.
I also had very good tempura at Hatanaka, in particular featuring some stunningly good aubergine. This was a lot better than the tempura at Yotaro, though the staff at the latter were much friendlier. Asagi was another very good tempura restaurant, the chef having no less than 48 years of experience cooking this style of food.
November is a good time to visit Tokyo, as it is much drier than in the summer, and we had clear skies and sunshine for the whole of our stay there. The Hama Rikyu gardens (pictured) are one of the several attractive gardens of Tokyo, very near Tsukiji fish market and accessible by waterbus. Ingredients in Japan are of an exceptionally high quality, and restaurants are ultra-seasonal in their use of them, so if you go at a slightly different time of year you will encounter a whole series of different ingredients in the cooking. For any food-lover, Japan is a must-visit destination.
The 2014 Michelin Guide for Tokyo, Yokohama and Kamakura has now appeared, with no new three stars and a demotion for Nanachome Kyoboshi on "consistency" grounds. This is a pity as I had a terrific meal there. At the two star level there were three new two star places in the form of Dominique Bouchet, Goryukubo and Yunke, and five demotions. This means that Tokyo has 14 three star restaurants, still comfortably the highest of any city in the world, and also 60 two star restaurants (59 according to their press release, which seems to have an error in Shonan, contradicting itself), along with 208 one star restaurants, of which 15 are new, with 21 demotions. It was interesting that Gordon Ramsay lost its star, along with the dismal China Blue at long last It also introduced the bib gourmand rating to Tokyo for the ifrst time.
The Hong Kong guide also appeared, with as ever some controversy attached. Caprice was demoted to two stars, Sushi Shikon (previously named Sushi Yoshitake, sister of the original in Tokyo) was promoted from two stars to three, and the bizarre Bo Innovation was given three stars, which is a truly surreal decision based on my meal there. Wagyu Takumi and Pierre were promoted to two stars, while Ming Court and Ye Shanghai lost their second stars. In Macau, the Chinese restaurant "8" was promoted to three stars. I was pleased to see Man Yah get a star in the 2014 guide.
My list of 3 star history and the map of all three star restaurants has been updated. Hong Kong now has 6 three star restaurants and Macau 2. At the two star level, Hong Kong has 13 and Macau 2, whilst at the one star level Hong Kong has 44 places and Macau 7. The only remaining Michelin guides to appear are the France guide, which traditionally appears at the end of February, and the Main Cities of Europe guide, covering Scandinavia, which usually comes out in March. My thoughts on the Hong Kong are captured in this interview with The South China Morning post, the leading English language newspaper in Hong Kong. This article definitely got some attention, as it was mentoined by the BBC and also by the US food publication The Eater.
The blog next week will resume its London coverage.