A jaunt to Hambleton Hall
Saturday, September 19th , 2009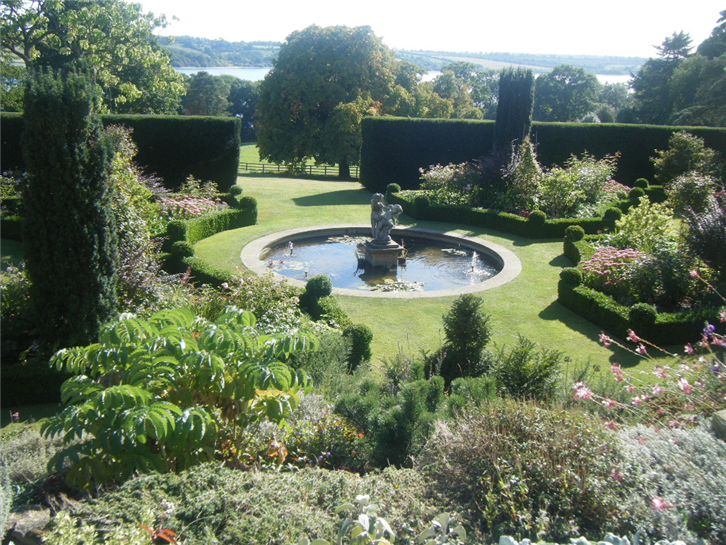 The setting of Hambleton Hall is very pretty indeed, overlooking Rutland Water and with lovely gardens (pictured). The food was very impressive, with a particularly superb scallop and potato dish the highlight for me. I last ate here ten years ago and had a very fine meal then; it is nice to note that a decade later, and with the same chef, the food is still delivering at a very high standard. Incidentally, this is also a nice spot to stay, with excellent rooms and thoughtful staff.
Kiasu is a reliable Malaysian café in Bayswater. Classics like mee goreng and nasi goreng are reliably good, and there is a pleasant, bustling atmosphere. It is difficult to find decent Malaysian food in London, but this is a place that delivers, and is very reasonably priced.
The Rivington Grill is as fashionable as its sister restaurants like Scotts, with a dining room full of the creative types that work around Hoxton and Shoreditch these days. The lengthy British menu delivers plenty of comfort food, and the kitchen mostly delivers on this promise. There were some minor slips, such as overcooked vegetables, but generally the cooking technique was reasonable, and more than this in the case of an excellent dessert. A very enjoyable place for a meal.
The Harwood Arms is my favourite London gastropub, helped along by the superb game that is sent down here by sister restaurant the Pot Kiln. An excellent example this week was the fallow deer that I had for my main course, the deer served in several ways: as excellent sausages, as a nicely cooked shoulder, with a confit made into a tasty croquette, served with salad. The taste of the deer was superb, every bit as good as one might hope for in more ambitious restaurant. There was a minor slip tonight elsewhere with some apple beignets that were a little soggier than ideal, which is odd given that I have had very good beignets here before, but the Bramley apple filling was still good, and overall the meal, which I began with their superb Scotch egg, was still excellent.
Those fancying a tipple at lunchtime in London may like to be aware that Tom Aikens is offering a "no corkage at lunch" option until the end of October. Given that the mark-ups in serious restaurants are very high (typically 3-4 times retail price, plus VAT) this is something to consider if you don't have any meetings in the afternoon.
Michelin (in New York and San Francisco at least) are taking the bold step of giving some hints about the lives of their inspectors, by allowing (carefully edited) Twittering from some of them. Michelin have always been ultra-secretive about their inspectors, but clearly see some commercial opportunity of playing on this and peeking under the covers a little. Sometimes, however, retaining the mystery is a good idea. An example of this was the New York guide (and London and Tokyo) delivering text rather than just the enigmatic star or two; the prose was written by a 3rd party writer, not the actual inspectors, and was bland in the extreme. I wonder whether this will also be a case where it would be better to retain the aura of complete anonymity. The inspector tweets so far appear to be a mixture of plugs for the forthcoming guide and insightful observations such as "yummy spring roll".
The second series of Masterchef Professionals started this week, and as before it is good to see Michel Roux Junior elevating the quality of the judging compared to the regular series. The quarter finals in which I help out are currently scheduled for Thursday 24h September and Thursday 1st October, on BBC2 at 8:15.