The Cafe Royal reopens
Saturday, January 05th , 2013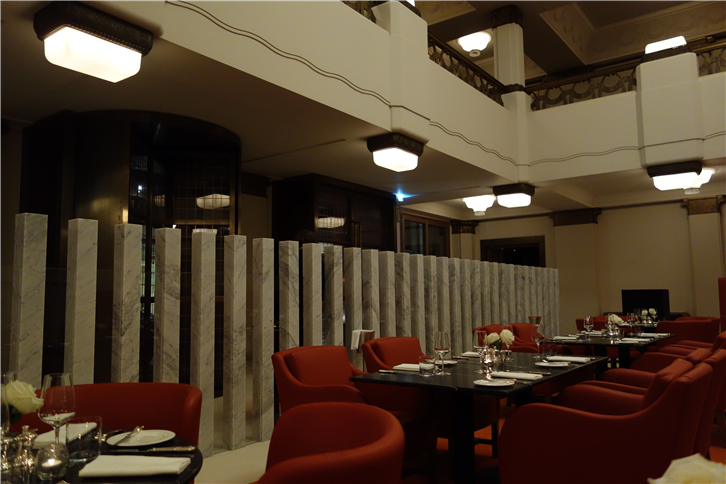 Happy New Year to everyone. This week I visited the Café Royal, or at least the first of its new restaurants. Later in 2013 (March, subject to builders) its flagship restaurant Domino will open (the beautifully restored Grill Room will be a champagne bar). At present the old restaurant open is the oddly named Ten Room, serving more casual European brasserie fare. The food was decent but the restaurant felt like a work in progress: the decoration was not finished, the staff seemed partly trained, with no full-time restaurant manager yet, and there was as yet only a token wine list. I don't mind such things in a soft opening, but this was fully priced, with main courses in the £25 - £35 range, and teething troubles should really either be worked out properly prior to opening, or softened via a steep discount e.g. Le Café Anglais did a three-month half price offer when it opened while the kinks were ironed out. Having said all that, the food was quite good albeit heavily priced for this style of cooking, though the room itself was bizarrely decorated. Those coming to the Café Royal looking for pretty art deco original features will be confronted at Ten Room by a modern all-red décor (pictured) which I found quite jarring. Fortunately the Grill Room and the room where Domino will be based have been sympathetically restored rather than "improved" in the way that the Ten Room has been. I certainly look forward to seeing the new rooms when they are open, hopefully in the spring.

I revisited The Empress, which is unusual for an east-end pub in having a former head chef of a Michelin-starred restaurant at the helm. I had another good meal here, although they seem to be overly worried about being perceived as "casual" by serving a pigeon whole rather than cutting it up a little. I felt a bit like Fred Flintstone as I hacked my way through it, though the meat itself was good when I made it that far. Service was friendly and the coffee has greatly improved since my last visit. Definitely worth a look if you are in the area.

I also went back to The Four Seasons in Queensway, a perpetually bustling restaurant where even a reservation only really gets you a bump up the queue (you may still wait fifteen minutes or more beyond the booked time before being seated). The food is good here e.g. the roast duck, which is cunningly displayed in the window to draw diners in, was very nice. Other dishes like gai lan were also good, though overall I still think that Royal China has the edge. The service at Four Seasons is not for those wishing to linger, from being seated we were out of the restaurant in 45 minutes flat.

Tosa is not a destination restaurant, but a pleasant Japanese grill restaurant in Hammersmith. I actually like their tempura best of all, as skewers of duck were a fraction on the chewy side, and grilled chicken was pleasant but nothing special. Their soft-shell crab rolls were quite nice though grilled mackerel was ordinary, and the place is at least very cheap: £27 a head including drinks at dinner. However if you are looking for this style of food in west London then I suggest you head further out to Kiraku in Ealing, which is also cheap and is much better.