From London to Chessington
Saturday, January 07th , 2017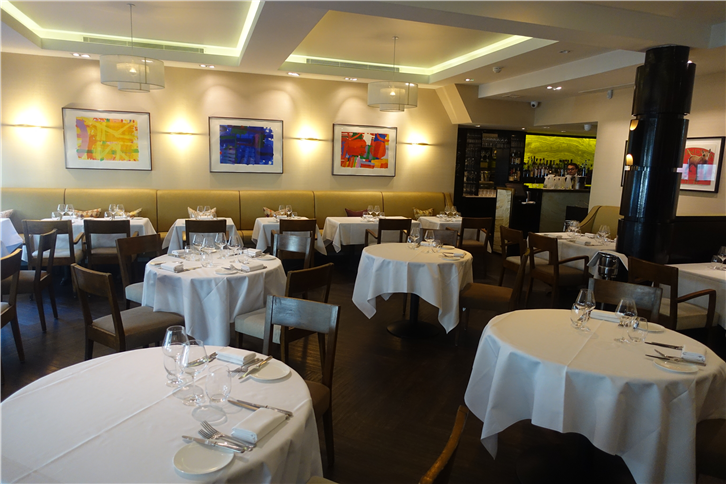 Saffron Summer is an Indian restaurant near Chessington, which came to my attention through recommendation and has a chef who worked at some of the better kitchens in London. Its menu is quite ambitious (wild boar vindaloo anyone?) and, except for one dish, the standard of cooking was high. I particularly enjoyed a chicken biryani and a jeera aloo dish, and breads were very good too. The only thing that marred the evening slightly was utterly inadequate heating, the dining room being very cold indeed. I'd be happy to go back there on a warmer night than this one, or when they fix the heating.
La Trompette was the first restaurant in Chiswick to gain a Michelin star, and has been a fixture of the local dining scene for many years. Since 2013 the chef has been Rob Weston, formerly head chef of The Square. My meal this week was more consistent than my previous one here. The star dish was one of raw gilt head bream with English wasabi, which was particularly well judged. However there were several very good dishes, and no duds through the course of the meal. Prices here are relatively modest, with the bonus of an interesting and not excessively priced wine list.
Seven Park Place is a tiny jewel box of a restaurant in a boutique hotel in St James. William Drabble earned a Michelin star soon after it opened and has retained this. He seems to be the kind of chef who is actually in his kitchen almost all the time, rather than spending his time on promoting his latest cookbook or raising his media profile. The meal was very good, with an excellent venison and cabbage dish in particular.
I also enjoyed another excellent meal at The Ritz over the Christmas period, and another at Parlour in Kensal Rise. I have written up many meals at both restaurants over recent years. Both are favourites of mine.