A trip to Amsterdam
Saturday, November 22nd , 2008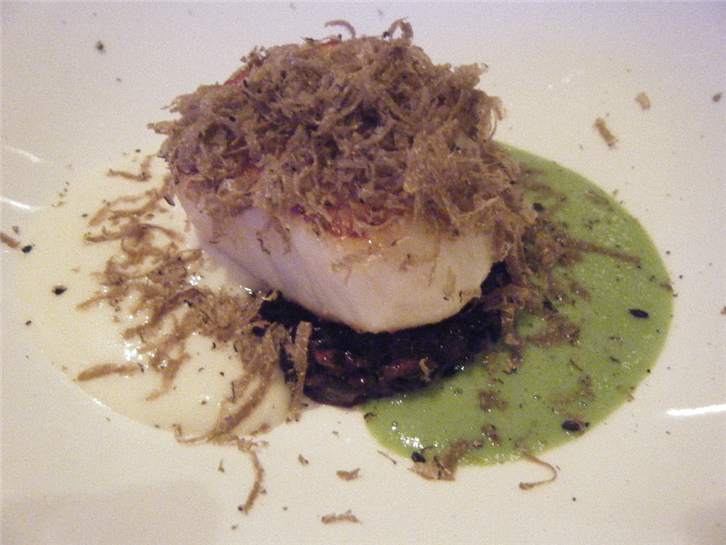 Ciel Bleu
is currently the only 2 Michelin star restaurant in Amsterdam. It has a spectacular view from the 23rd floor of the Okura hotel over the city. Normally I am nervous about restaurants with a view, as some places rely on the view rather than the cooking, but there were no such problems here. I had an excellent tasting menu, the food modern but not crazy-modern, and with good quality ingredients and high quality technique throughout (an examplescallop dish is illustrated). Ciel Bleu is a strong two star estalishment.
The
Thomas Cubitt
is a pub on the ground floor but a quite smart restaurant upstairs. The savoury courses we tried were very capable, desserts less so, but overall it was certainly a pleasant meal. I thought the prices were high for the level of cooking, but the place was packed on a Tuesday night, so what do I know?
Trishna
is that rarest of birds, a new Indian restaurant in London. Over the last couple of years I have been sorry to see a succession of excellent Indian places close (Sabras, Sarkhels, Deya,…) so it is nice to see the trend being bucked. The twist here that is that Trishna is sister to a well-known seafood restaurant in Mumbai, and it follows a similar form in London. I was pleasantly surprised by the quality of ingredients used. So often Indian restaurants use the most basic of ingredients, relying on spice to do its magic, but here I had diver caught scallops and wild sea bass, at prices that were not excessive given how much the food cost must have been. The cooking was quite good, though the spicing was surprisingly tentative, and I would happily go back there for another try. I think they would be best being a little bolder with their spicing, as I sense that they are toning things down for perceived western tastes. Yet they are playing on the authenticity card with the Mumbai connection, and most London diners know one end of a chilli from another.
Tierra Brindisa
is another restaurant with a sibling, the well established tapas bar in Borough Market (with a shop attached selling top notch Spanish produce such as high quality pata negra). The Soho version follows a similar format, and here you can at least make bookings. A quick lunch here was pleasant, with mostly well made food, and certainly good ingredients on show.
The 2009 Michelin guides continue to be released gradually. The US guides are already out, and this week saw the appearance of the Germany Guide and the Tokyo guide. The news at the top is that Aqua is a newly promoted 3 star in Germany, in the industrial town of Wolfsburg, while Heinz Winkler is demoted to 2 stars. There are three new two star places, Falco (in Leipzig),
Überfahrt (in Rottach Egern) and Dallmayr (in Munich).
In Tokyo, the stardust continues to glitter, with Ishikawa promoted to 3 stars, plus no less than 14 new 2 star places (bringing the total to 36), plus 35 new 1 stars, bringing the total to 128. Being a Japanese press release, they are much too polite to point out that three two star places (Tsukiji Uemura, Tsukiji Yamamoto, Twenty One) were also demoted, as were a slew (27 by my count) of the one star places. Tokyo now has 173 starred restaurants, with 227 stars in all, making it easily the world's most "starred" city (as indeed it was last year). In a separate press announcement they explain that there Tokyo inspection team is now seven people, six of them Japanese (implying that two of the three previous European inspectors have moved elsewhere). I had hoped that the second edition would correct some of the more glaring eccentricities, but still Ryugin has just two stars instead of the three it deserves, and some of the more surreal highly rated places (most of which are far from highly rated in local food reviews according to a foodie friend who lives in Tokyo) are still resplendent in their stars. For example the Chinese restaurant Reikasai was for me about 3/10, way below Michelin star standards, yet Ryugin (which in my view was 9/10) has the same Michelin two star rating as it. The Tokyo Michelin was a big commercial success, but I am not convinced that it is internally consistent yet.
The Spanish and Italian guides also came out late this week. In Italy there are no less than eight new two star places: Combal.zero (in Rivoli), Il Pagliaccio (in Rome), L'Olivo (in Capri), La Peca (in Lonigo), Reale (in Rivisondoli), Torre del Saracino (in Vico Equense); Trussardi alla Scala (in Milan) and Uliassi (in Senigallia). Three two star places were demoted, Gualtiero Marchesi in Erbusco, La Tenda Rossa in San Casciano in Val di Pesa, and Flipot in Torre Pellice. There are 35 new one star venues. Overall, Italy has five three star places, 34 with two stars and 236 hold one star. This is a significant increase, as five years ago there were four 3 star places, 23 two star and 191 one star.
The Switzerland Guide also left the three star tally unchanged, with Cheval Blanc (in Basel) and Adelboden (in Steinen-Schwyz) both gaining their second star, but Joehri's Talvo in Champfer losing its second star. There were eight new one star places, but ten demotions, leaving a grand total of 100 stars in Switzerland (two three stars, 14 two stars, and 66 one star places).
In a rare show of restraint, the Spanish inspectors added just a single new two star, Sergi Arola Gastro in Madrid. In total, there are six three star places, ten two star restaurants and 125 one star places.
There are several 2009 guides still to be published. The France one is traditionally last, usually around the end of February. The UK one is usually late January. Also to come are Austria on November 24th (this is unlikely to trouble the 3 star total), BeNeLux on November 25th and the inaugural guide to Hong Kong and Macau on December the 2nd.
Finally, you will hopefully have noticed that there is now a site-search feature for this web site.