I try Sands End and the Anglesea Arms
Saturday, June 27th , 2009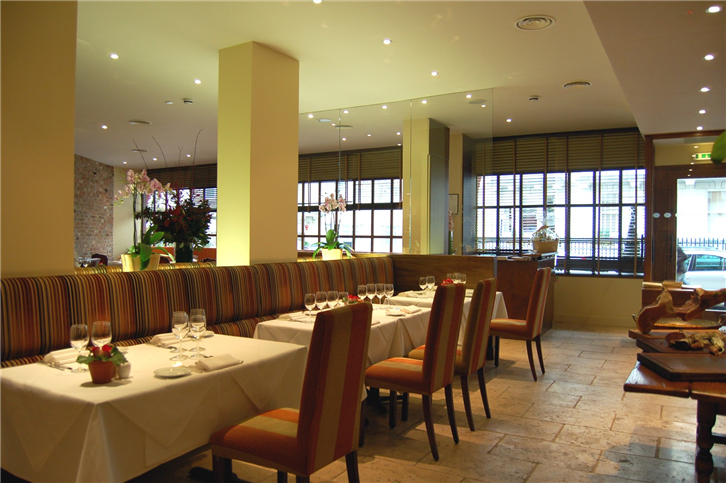 A Fulham gastropub that has gained attention in the last year or so is Sands End, and I can see why. The food is definitely a step up from the norm, the bar snacks are tasty and the place even makes its own bread. Apart from one dish that went wrong, the cooking is capable and the menu appealing. It just has the misfortune to be not far from the superb Harwood Arms, but it was full of happy customers on the night that we visited.
Continuing the gastropub theme, I went to the Anglesea Arms, which has been at this game a long time. I first went there many years ago when it opened in this format At that time there were no bookings and they had a surreal method for deciding who got served in which sequence, and the meal took so long that I wasn't in a rush to head back. Now they do reservations and the service proceeded at a regular pace. However gastropubs have also moved on in the last five years, and although the food I had was pleasant there were too many little errors for this mid-range price in my view. It also grated that they charge you £1.50 if you want another slice of bread, which seems to me a pretty customer-hostile policy. In this area of London The Princess Victoria wins by some margin.
It's alive! As well as being a fun cult horror film by Larry Cohen this applies now to Kiasu, which is back from the dead; a few weeks ago I reported it closed, and certainly the two times I walked past recently it was distinctly closed, with a sign in the window implying that the premises were being repossessed. Yet here it is again, large as life. A member of staff that I asked confirmed that it had shut for a month due to a dispute with the landlord. I'm just happy that it is back (unchanged chef and owners as far as I could see), still serving the same fairly priced and authentic Malaysian food.
Zafferano (pictured) was on fairly good form this week, with a significantly changed menu reflecting the summer season. Broad bean and cuttlefish salad was excellent, as was a main course of langoustines and wild salmon, while pasta parcels with girolles also worked well. As ever, the strong point here is the high quality ingredients, cooked carefully but with minimum messing about.
I have long been a fan of the basic café Diwana Bhel Poori in Drummond Street, which has been serving the same tasty Gujerati snacks for decades, at very low prices indeed. If you stick to the South Indian food you will eat very well (2/10 or even 3/10 level) but the mainstream curries they do are pretty bad, which is why I keep the overall mark for it low. However at around £12 a head for the good dishes (such as the bhel poori) it is a true bargain.
I went along to the Taste of London Festival in Regents Park last weekend, which was heaving with people (completely sold out on the day I attended). Luckily the weather held off, and the sun popped out while the crowds wandered around the pavilions, sampling little dishes from some of London's top restaurants, and snacking on freebies from the various exhibitors. The chefs were out in force, and I chatted with Michel Roux Junior from Le Gavroche, Shane Osborne from Pied a Terre and Brett Graham from the Ledbury amongst others. British Airways thoughtfully had a hospitality tent if you possessed one of the better colours of Executive Club membership, and was sufficiently popular that they actually ran out of champagne; this may not have been entirely unrelated to my earlier visit there (late comers had to fall back on Pimms, poor petals). The actual food at the event tends to be a shadow of what the restaurants turn out, as they are having to knock out high volumes of short-order food in pretty basic conditions, but a lobster bisque from le Gavroche and a raspberry dessert from Pied a Terre still tasted pretty good. It was certainly a popular event.
It was confirmed that Heston Blumenthal will indeed take over the current site of Foliage (in late 2010) and install a large, 140-seat restaurant. It will certainly be interesting to see what the culinary alchemist comes up with. Although such a large number of covers could have "bistro" written all over it, I notice that the head chef will be Ashley Palmer-Watts, who for years has been effectively head chef at the Fat Duck while Heston has been pursuing his other projects and inventing dishes; this suggests that it has potential to be a serious restaurant, though doubtless things will become clearer nearer the time.