The Ups and Downs of London Dining
Saturday, August 12th , 2017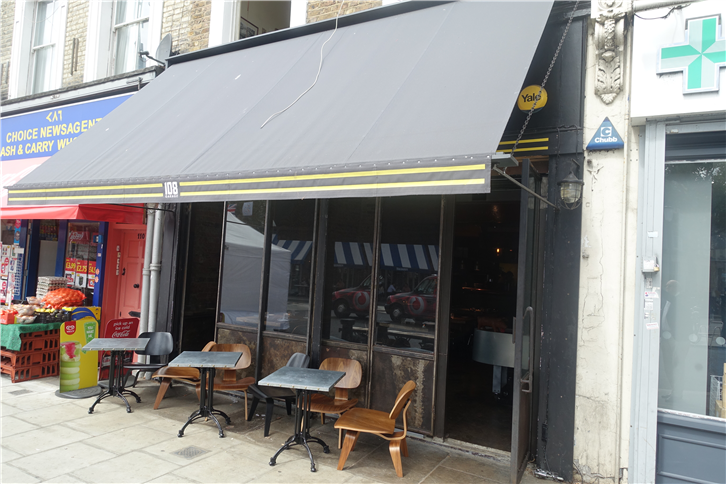 108 Garage (pictured) is a hipster restaurant in Golborne Road, all bare brick walls and exposed electrical cables, in premises that was once a garage. The chef has worked in some serious restaurants, so I hoped for something a lot better than the meal that I ate here, especially given the generally upbeat reviews elsewhere. Despite very good bread, I had a disappointing and surprisingly expensive meal. It would have been considerably pricier if I had tried the wine, which was marked up to an eye-watering level that would raise eyebrows in Berkeley Square, never mind in W10.
Hakkasan Mayfair is an impressively slick restaurant, still packing them in after many years of operation. The standard of food here is both high and remarkably consistent given the large scale of the operation. As well as the excellent dim sum, a dish I particularly liked at this latest meal was the plate of Sichuan style langoustines. This is one of my regular haunts, and somewhere to go if you want to eat food a notch or two up from Chinatown and don't mind paying Mayfair prices.
A Cena is a neighbourhood Italian restaurant just on the far side of Richmond bridge, so actually in Twickenham. It was doing well and the food was pleasant enough, though the wine list was unappealing and the food never really went beyond the level of being decent. You could do worse if in the area, but it is not somewhere that is worth a detour.
Patara is a mini-chain of upmarket Thai restaurants, with smooth service, smart décor and prices to match. The food is capable, though at the Knightsbridge branch our latest meal here was fine but felt expensive for what it was. Still, there are some good dishes here and the service is impeccable.