South Africa's Best Restaurants
Saturday, December 19th , 2015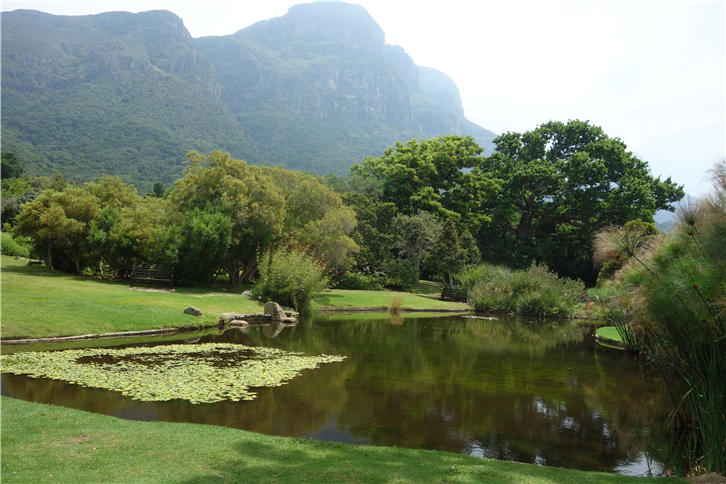 Rust en Vrede is a restaurant in a winery in Stellenbosch, not far from Cape Town. It has a lovely terrace looking out over the countryside, with a smart dining room that in the evening was poorly lit. To compensate it has a superb and lengthy wine list, featuring not just its own well-regarded wines but a large selection of top growers, many of the wines being listed below their current market value. The meal itself was rather ordinary until the dessert stage, when the two best dishes of the meal appeared.
The Tasting Room at Quartier Francais makes heavy use of local produce, with lots of exotic raw material fashioned into an eight course tasting menu. There were some highlights, such as a particularly lovely quail dish, and a technically clever and enjoyable dish involving beetroot jelly filled with liquid beetroot. Not everything was to the same standard, however. At times the flavour balance seemed a little off, and it was a pity to encounter woefully undercooked cabbage with one dish. However the staff were charming, the wines excellent and the bill modest.
Test Kitchen in Cape Town is set in a fairly industrial area, has an open kitchen and casual décor in the modern style. We tried the full tasting menu there, and very good it was too, with for example a most enjoyable dish of kingklip, a local fish. The standard of the meal was highly consistent throughout, with no duff dishes at all over the lengthy menu, and the service was impressive.
Interestingly, my favourite meal of the week was not at either of the above restaurants on the San Pellegrino list but at La Colombe. This moved recently to the Silvermist vineyard in Constantia Nek, very near the Botanical Gardens of Cape Town and at the far end of the Constantia wine route. The view looking out over the vineyards below is stunning, and the food was impressive. From a very well-balanced tuna starter through to an elaborate but well-judged fish dish the food was classy. Service was lovely and the wine list was another bargain, so if you are travelling to Cape Town make sure that La Colombe is high on your list to visit.
The South African wine region is a lovely part of the world, and at present offers almost embarrassingly good value if you are fortunate enough to live in a country with a reasonable strong currency. A sense of the glorious scenery in the area can be gained from Kirtsenbosch Botanical Gardens (pictured), which nestles under Table Mountain on the edge of Cape Town just by the Constantia wine route.
The 2016 Michelin Guide to Belgium and Luxembourg appeared. There was no change at the three star level, but promotions to two stars for The Jane, la Villa in the Sky and d'Eugenia d'Emilie. There are now 3 three star restaurants in Belgium, along with 20 two stars and 105 one stars (seven new one stars this year). Additionally, Luxembourg has 11 one stars (two new ones this year, with one demotion).
Since we clearly do not have enough best restaurant lists, "La Liste" appeared. This is all very meta, an algorithm driven list sponsored by the French government and based on ratings of 200 local food guides around the world. It may be seen as a French response to San Pellegrino, but in fact takes the San Pellegrino top 100 as one of its inputs. Top of the tree was the lovely Hotel de Ville, and there are certainy worse choices than that. To me any such list is inherently flawed, as no-one can be so precise as to say that so and so restaurant is 27th in the world and not 28th or 26th. However it is certainly an interesting addition to the debate about how to rank the unrankable. La Liste rather peculiarly includes some introduction-only restaurants in Japan such as Mizikawa, which is doubtless very good but at which no one can eat unless you are part of that particular private members club. Nonetheless It is good to see an alternative approach to global restaurant assessment, another worthy one being OAD, which is in fact one of the sources La Liste uses. I was quietly chuffed to discover that my very own www.andyhayler.com website is also a "trusted source" according to La Liste.
Have a very happy Christmas everyone!