Going Dutch
Saturday, May 10th , 2014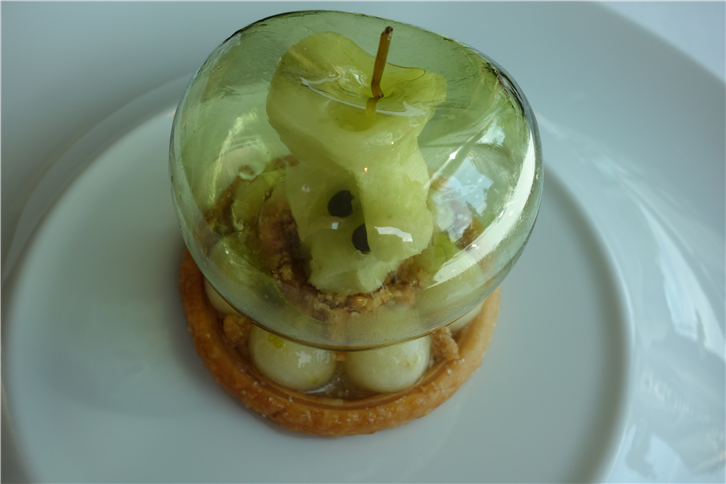 De Leest gained a third Michelin star this year. It is situated in the quiet town of Vaassen between Apeldoorn and Zwolle in Gelderland, about 60 miles east of Amsterdam. The meal was entirely pleasant, and there was one genuinely impressive turbot dish, but other than this it did not seem to me to be a three star meal. This is not to criticise the restaurant, which was very good and not excessively priced, with some wine bargains as well; I simply struggle to understand its Michelin rating.
I preferred Bord'eau in Amsterdam, a restaurant that has rapidly gained first one and then a second star. The food here was exceptionally well presented, based on good ingredients and was creative without being weird. A clever apple dessert (pictured), with the "apple" made from spun sugar, the "core" made of apple sorbet and the "pips" being chocolate was an example of the kind of effort that is going on here. There were one or two areas for improvement, in particular the bread, but this was a very strong performance, nudging firmly into three star territory at times.
Bird of Smithfield is a multi-level premises in an old Georgian townhouse on one side of Smithfield Market (opposite Club Gascon). It is a casual place and is at its best when producing simple dishes like fish and chips. Spring chicken did not need an edible flower as a garnish, and a mackerel dish that I tried was remarkably lacking in flavour. This has some way to match the consistency of The Ivy, where Alan Bird was head chef for years, both in food and service.
One Kensington is in the premises of what used to be Zaika. The room has been substantially refurbished and the cuisine is now European with an Italian emphasis. The consultant chef is Massimiliano Blasone, who gained a Michelin star for Apsleys before moving to the USA for a spell. The dishes at my meal here were good, though I have the feeling that the chef is much more at home with high end Italian cooking rather than the rather more casual format that is intended here. Still, gnocchi in particular was excellent, as was lemon tart, but a couple of dishes lacked flavour. I suspect that this is a reflection of the lower quality of ingredients that the kitchen is expected to work here compared to the more ambitious setting of Apsleys. However, the peripatetic Mr Blasone is a gifted chef, so this is worth a try while he remains here.
I notched up my 47th meal at Hedone, which continues to be on superb form ever since it switched to a tasting menu only format. As ever, the ingredients here are impeccable, such as lovely Scottish langoustine, suckling pig from the Pyrenees and superb Luberon asparagus. The level of cooking here now is very high indeed, with several dishes firmly nudging three star territory, including the dazzling bread, which is near perfect and is now also being used at Hibiscus.
I also popped back to Madhu's at The Sheraton, whose robata grill means that certain dishes have an enjoyably smoky note from the charcoal. This is particularly apparent with terrific lamb chops, which arrive ultra tender and with just a hint of smokiness. Other dishes that work particularly well here are chicken biryani and indeed pretty much anything from the grill, such as large and tender achari prawns.
I am delighted to add to the site a chef interview with Yoshiharu Kakinuma, the head chef of 3 star Michelin Sushi Shikon in Hong Kong.
With De Leest, I have now visited 108 of the 110 current three star Michelin restaurants in the world. Just Assiette Champenoise in Reims and Uberfahrt near Munich remain.