Over Hyped and Over Here
Saturday, February 18th , 2017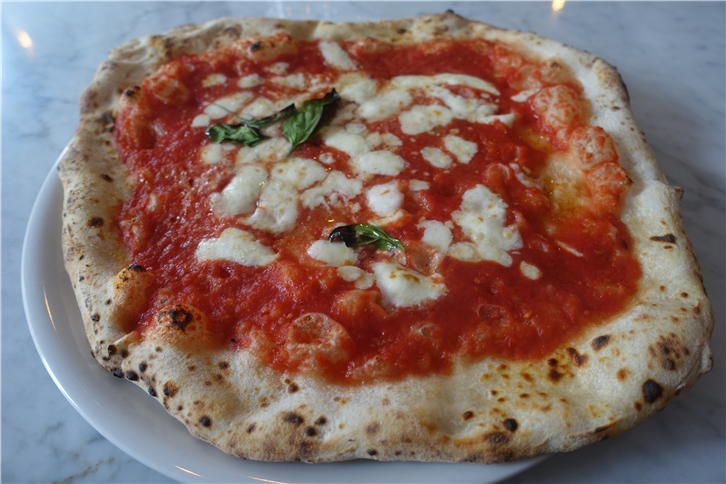 El Pastor is one of a clutch of recent tacos openings in the capital. This one has the advantage of experienced restaurant backers and also go to the trouble of making their own tortillas, so I had decent expectations. Sadly the reality was a disappointment, with frosty reception staff, minuscule portions and one dimensional salsa. Even the tortillas were nothing special. Just after I went the Evening Standard critic Grace Dent went here and had a pretty miserable time, speculating that maybe she went on a bad day. They seem to have a lot of these based on my experience.
Another restaurant that set high expectations was Antica Pizzeria Da Michele, the Stoke Newington branch of a famous pizzeria in Naples. Julia Roberts may have had a relationship with her pizza at the original flagship branch in Naples, but my experience was lacklustre. The pizza itself was fine when I was eventually served it (I was served my pizza an hour after sitting down, despite being first in the queue at the door), but I slightly prefer some of the better existing London pizza restaurants to this. What was certain was that the service operation at this restaurant is an utter shambles. It was complete chaos in the dining room.
Bonhams is one of my regular haunts, a small place serving up impeccable food based on high quality ingredients. At this latest meal the star dish was venison tartare with mustard ice cream, a glorious combination. Chicken with black truffles was also good, and an almond and pear tart was lovely. The wine list here is the most kindly priced in London, with the better wines hovering around their retail price.
Tarantella is a family-run Italian restaurant in Chiswick. They make capable pizza and pasta, but above all the welcome is genuine and friendly. It Is just a simple local place within walking distance of where I live, but is a good example of how a welcoming atmosphere and service can be just as important to a restaurant as elaborate food.
Next week I will explore the cuisine of Latvia in a visit to Riga.