A Variety of Cuisines
Saturday, February 14th , 2015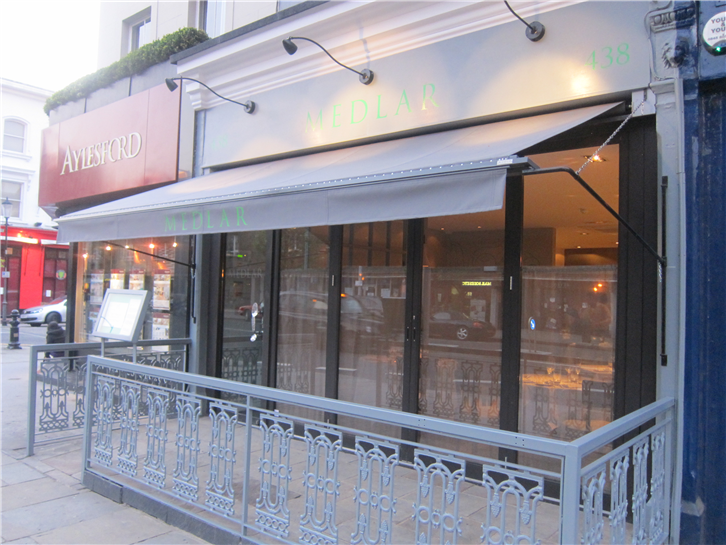 Caphe Guests is a new Vietnamese restaurant in Chiswick. It has simple but quite smart décor and a very lengthy menu. A spicy salad with prawns was very enjoyable, and choy sum was stir-fried with garlic and had good texture. Not everything was to the same standard, and the ingredients tasted pretty low-budget, but service was friendly and prices moderate. This area has quite a few Asian restaurants, but none that can really be recommended now that Chisou has folded, so Caphe Guests is a welcome addition to the neighbourhood. One day someone will really make an effort with Vietnamese cuisine in London and aim for something ambitious, in the way that Hakkasan did with Chinese. For now we have to make do with decent but hardly thrilling places like this.
Medlar (pictured) seemed busy when we went, and has clearly built up a loyal clientele. The wine list has dramatically expanded since I first came here, and although it could not be described as a bargain there are certainly plenty of interesting labels here now. The menu here has always been appealing, aiming for customer pleasure rather than showing off cheffy gimmickry. The dishes that I tried were good, such as a coquelet with gnocchi and particularly rich and enjoyable jus flavoured with tarragon. The other dishes that I ate were not quite so well made, very pleasant but seeming to me less well balanced. It was a perfectly good meal, but at £99 a head the prices have nudged up but the standard was a little less even than I recall at my previous meals here.
Roti Chai near Oxford Street was heaving with customers, even at a very early evening sitting. It is easy to see why, as dish after excellent dish arrived. Goan chilli prawns were particularly good, as were potatoes with curry leaves, but there was not a duff dish in the meal. Service was great and the meal cost just £38 a head including plenty of beer, which seemed very good value indeed to me. The upstairs has communal seating, the downstairs a more conventional dining room layout – both were packed with diners having a good time.
For those interested in eating in Japan, the choice can be overwhelming. As well as Michelin, there is the local kanji website Tabelog, which is a popular voting site. For non-Japanese speakers this can be awkward to figure out, but blogger Luxeat has helpfully translated the top 50 restaurants in Tokyo:
http://www.luxeat.com/blog/50-tokyo-restaurants-tabelog-users-3/
and also the top 50 sushi places, as ranked by Tabelog:
http://www.luxeat.com/blog/50-tokyo-sushi-restaurants-tabelog-com-users-2/
It is interesting to compare these with Michelin, where there is some overlap (the superb Sushi Saito has three Michelin stars and is also the top rated sushi place on Tabelog), but many differences too. There is no such thing as a perfect restaurant list, but it is quite intriguing to compare the ratings of places voted for by diners with the assessments of the professional inspections of Michelin.