Maze grilled
Saturday, May 10th , 2008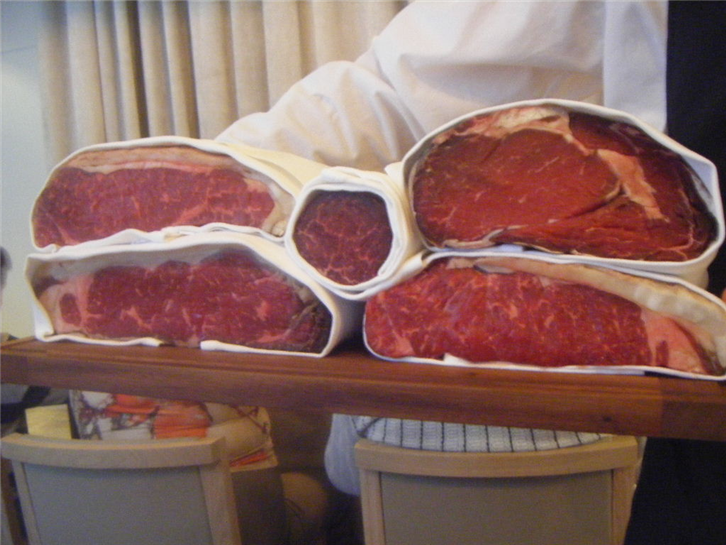 Jason Atherton is one of the best of the Ramsay family of chefs; I first ate his food at
Verre
in Dubai, and was very pleasantly surprised with what he was able to do (especially given that virtually all produce has to be imported there). He has a Michelin star for
Maze
but is now trying the New York steak house concept with
Maze Grill
. The meat was about as good as you are going to get in the UK, and I liked the fact that there was a decent selection of non-meat dishes, though the steaks were without doubt the star of the show. Service was also unusually good. The wine list is not as forgiving as the excellent
Hawksmoor
but the steaks have the edge.
I had an enjoyable experience at gastropub
The Abingdon
, and it is not often that I mix the words "enjoyable" and "gastropub" in the same sentence. It was simple, decent British cooking that was very well executed, and that may not seem much to ask but it so rarely happens.
It has long been a mystery to as to why there are no decent restaurants in Hampstead or Wimbledon. These areas are, after all, not short of a bob or two, and Hampstead in particular has all those media luvvies who like to go out and be seen, sweetie darling. Yet every few years I trek off to Hampstead to try out some new place that is proclaimed by the media as "at last, a real restaurant in Hampstead" only for it to be a letdown. I went to
Goldfish
based on an absurdly slavering
review
by the far from reliable Matthew Norman in the Guardian. Goldfish is actually not bad, a decent 2/10 level Chinese restaurant, but I now realise that Mr Norman and I live in different culinary worlds.
The Light House
is a well established restaurant, long felt to be easily the best thing that Wimbledon has to offer. I am sure this is true, and it was a pleasant enough experience (if I don't count the parking, which even on a weekend is a nightmare and is hardly the restaurant's fault). However it is hardly exciting and just about deserves a 3/10; I preferred the meal at the Abingdon, for example, which despite its Kensington location was cheaper. Well, I guess Wimbledon inhabitants do at least have their Common to wander about while they contemplate why they don't have any really good restaurants.
I went to
Amaya
soon after it opened and had a pleasant but expensive meal, so have not been in a rush to return, despite its Michelin star. I have to say that the food has settled down and improved significantly, with a chicken tikka in particular being dazzling in its tenderness. The biriani managed to keep the meat moist and the other tandoor items tried were excellent. The price is still high but at least now you are getting quality to match. I have increased the score for Amaya on this web site to 4/10 based on this experience.
The summer should see two openings of interest in London. Helen Darroze (2 stars in Paris) opens at the Connaught and Jean-Christophe Ansanay-Alex (2 stars in Lyon) opens on the old Lundum's site in South Kensington. Angela Hartnett seems to be set to juggle a couple of places in the coming months (Murano in Mayfair and York and Albany near Regent's Park). Personally I was never stunned by here cooking at the Connaught but I will keep an open mind.