Formans now have a restaurant
Saturday, July 23rd , 2011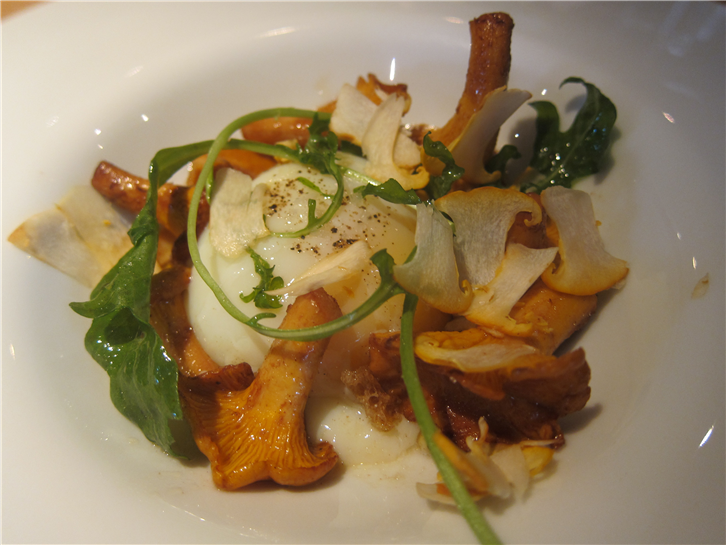 Forman's is well-known for its "London cure" smoked salmon, which you can buy mail order but is also widely used in restaurants. The smokery, with the exotically named "Fish Island" address near Bow, has now opened up a restaurant with a view over the Olympic stadium. Although the smoked salmon itself was good, the rest of the food was distinctly up and down, the best dishes where the kitchen had little to do with the food, which is rarely a good sign. This was a shame as the room is attractive and I liked the idea of eating fish in a salmon smokery. Ah well.
I had contrasting fortunes in my meals in Chiswick this week. The Devonshire Arms is a new incarnation of The Devonshire, which Gordon Ramsay failed to make a success of despite his brand and what I thought was competent, if over-priced, food. The new version is from the owner of The Drapers Arms and, based on this visit, he has a lot of work to do. Our meal had a couple of decent dishes but also some real howlers, and I think that they really need to improve if the place is to prosper in an area with plenty of competitive offerings.

The Duke of Sussex is one of those competitors, a pub offering hearty, robust British food but with a distinct Spanish influence. I always warm to a place where they take the trouble to make their own bread, and it is very good here. A chorizo heuvos was a particularly good and comforting dish this week.

Old favourite Zafferano continues to be consistently good, delivering not only an excellent summer salad but also a new pasta dish on the menu: a tubular pasta with arrabiata sauce was really excellent, the pasta texture good, the tomato in the sauce having depth of flavour, and a very well judged level of pepper kick enlivening this deceptively simple dish. Service was terrific as ever.

By far the most interesting meal of the week was at Hedone. I have written previously about the lack of really ambitious London openings in recent years. There have been no shortage of bistros and pubs, but how many recent restaurants have really been aiming for the culinary stars? Exclude those in hotels (Helene Darroze, Apsleys, Alain Ducasse) and it is a struggle to think of any since the late lamented Ambassade de l'Ile and, going further back, Tom Aikens. Hedone is unusual in many ways, run by an ingredients expert and food writer rather than a classically trained chef, but above all the food is genuinely ambitious. The chef/owner has scoured the UK for small suppliers who can provide really top quality produce, supplementing this from France and Italy when necessary. The cooking, which is deliberately not over-technical, is designed to showcase these ingredients, which are really dazzling. Scallops were so fresh that the slices of sashimi scallops were still moving when plated. Another example was a lovely dish of girolles with slow-cooked egg and sourdough crouton crumbs (pictured), which featured remarkably good Scottish girolles. I have now had four meals at Hedone since its opening its two weeks ago, so this is no flash-in-the-pan. It provides arguably the most exciting cooking in London right now: go while you can still get a reservation.

I am also delighted to add to the web site a chef interview with Grant Achatz, chef of Alinea. I had a stunning meal at Alinea on my recent visit to Chicago, and Grant was featured as one of Time Magazine's 100 most influential people list, the only food-related person to be honoured in this way.