High quality pizza sighted in west London
Saturday, December 19th , 2009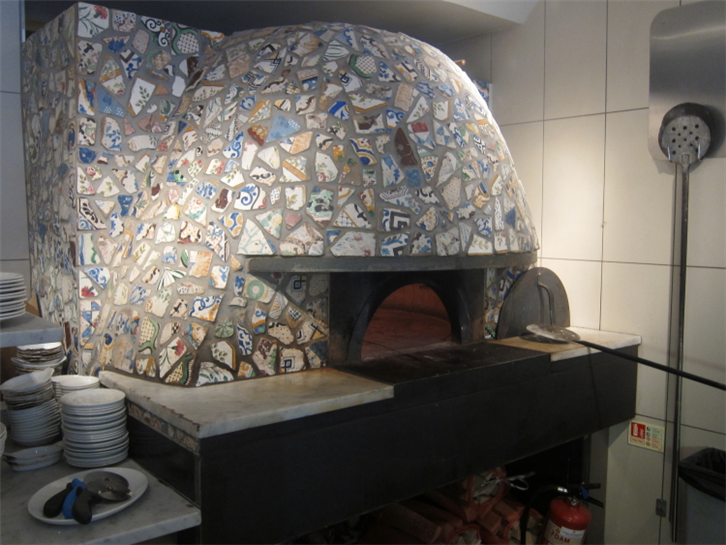 As mentioned in an earlier blog, I was delighted to discover that Franco Manca had chosen to open in Chiswick. The same obsession to detail that has made the Brixton Market outlet such a success is in evidence in the new branch, which has the same minimalist menu, the same carefully sourced ingredients and, above all, the same genuine Naples pizza oven (pictured), built on site and weighing in at eight tons. This beast took two weeks to heat up after it was built, and now manages a balmy 550C, cooking a pizza in 40 seconds flat. The effect is a pizza base that, while crisp on the outside, is surprisingly soft to eat. Since the tomato sauce is prepared from Italian tomatoes, and the toppings so much better than other pizza joints (the chorizo comes from Brindisa, for instance), the effect is lovely. At the end of the day it is, yes, just a pizza, but what a pizza. I like the purity of the menu here : half a dozen pizzas, no starters, no desserts, essentially nothing else except a bowl of salad, and home-made lemonade and fruit juices (which are excellent by the way, e.g. the apple juice is a world away from the pale imitation that one encounters in supermarkets and bars).
It was pleasure to return to The Bull and Last, which is without doubt one of the best gastropubs in London. I enjoyed scallops with apple and caper salad and black pudding, and especially liked a roast guinea fowl with very carefully cooked sprout tops, game chips and bread sauce. The place was packed out but the kitchen did not miss a beat, and the main course in particular was really enjoyable. As a bonus, they even make triple cooked chips, which for me seems to be the just about the very finest thing that you can do to a potato.
It is coming towards the end of the white truffle season, so it seemed time to revisit Zafferano and have their tagliatelle with white truffles. This is a very simple (but very nicely made) pasta dish, which is as it should be since white truffles have such a distinct aroma that the pasta is essentially acting as a truffle delivery system. The supplements for white truffle dishes keep climbing, though so far London has nothing on New York, where I noticed that supplements were USD 90 – 135 per dish, making the Zafferano supplement seem relatively reasonable. Apart from that, I enjoyed a cuttlefish salad, scallops and a dessert of apple fritters. As ever, we were very well looked after.
The BBC TV Series The Restaurant (with Raymond Blanc as main judge) concluded this week, demonstrating if nothing else that talent need never get in the way of winning a restaurant TV show.
I would like to wish you all a very happy Christmas. Happy eating!