Reliable London restaurants
Saturday, April 09th , 2016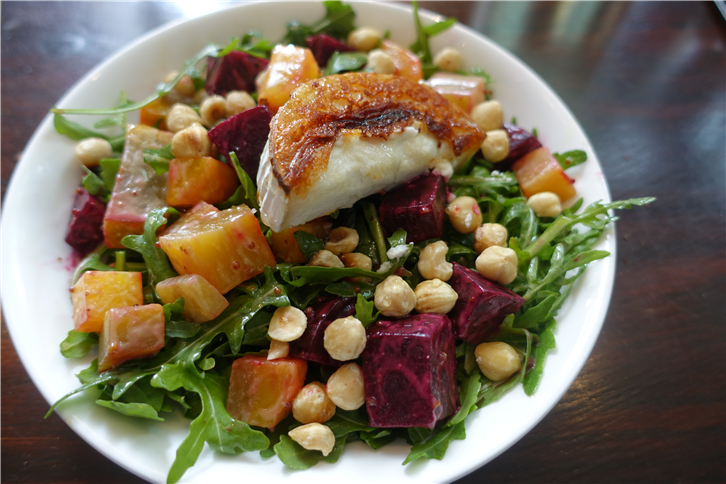 L'Amorosa is a regular haunt of mine. With ex-Michelin starred chef Andy Needham in the kitchen, l'Amorosa is much more than just a neighbourhood Italian restaurant, despite the distinctly modest prices. Andy's previously strengths at Zafferano continue in his cooking here, with excellent freshly made pasta dishes such as a papardelle ragu at this visit. He has always been terrific at risotto, and a simple saffron risotto at this meal reminded me of one I ate at a two star Michelin in Milan some time ago.
We had two sets of dim sum this week. Min Jiang was the posher of the two venues. On the tenth floor of the Royal Garden Hotel in Kensington, the dining room has a lovely view out over Hyde Park. Service is slick though the wine list is excessively marked up, but the food is capable. Classic dumplings like har gau are well made, and there were two stand-out dishes in the form of pork char siew puffs and delicate lobster buns. Not everything was great e.g. a poor xiao long bao, but the standard was generally pretty high and if you stick to dim sum the prices are moderate.
Royal China is an old favourite that I usually frequent at dinner, so it was a nice change to queue up on a Sunday morning and join the crowds for dim sum instead. The standards here are high and the cooking is very consistent. Steamed buns are excellent, such as prawn and chive dumplings. I always enjoy the little fluffy pork buns here, and coriander and prawns fried puffs were also excellent. Service here is efficient rather than cuddly, but the prices are fair and the barn of a dining room was packed out, a testament to its popularity.
The all day venue High Road Brasserie in Chiswick is immensely popular, its outside tables always packed with locals at the merest hint of decent weather. The menu is appealing and the food simple, with dishes such as a lobster linguine with tomato sauce, or a beetroot and goat cheese salad (pictured). The standard is quite consistent here and there are rarely any dud dishes, yet when the bill arrives it always seems rather a lot for what has appeared on the plate. It is a short stroll from where I live, so every now and again I wander along and try it, and remember why it has never become a regular venue for me.
I tweeted on April 1st about The Last Parnsip, a restaurant with an elaborate web site and even an associated YouTube channel, purporting to delight in "combinatorial cooking". Given the number of confused responses that I had, I would just like to make it clear that site is a spoof satirising the excesses of modernist cooking, though it is an extremely elaborate spoof. Its tone is straight down the line and for a moment you wonder whether it is real. If you have not seen this then it is worth a look; the person that created it clearly put a great deal of effort to it.