In search of good value eating in London
Saturday, August 18th , 2012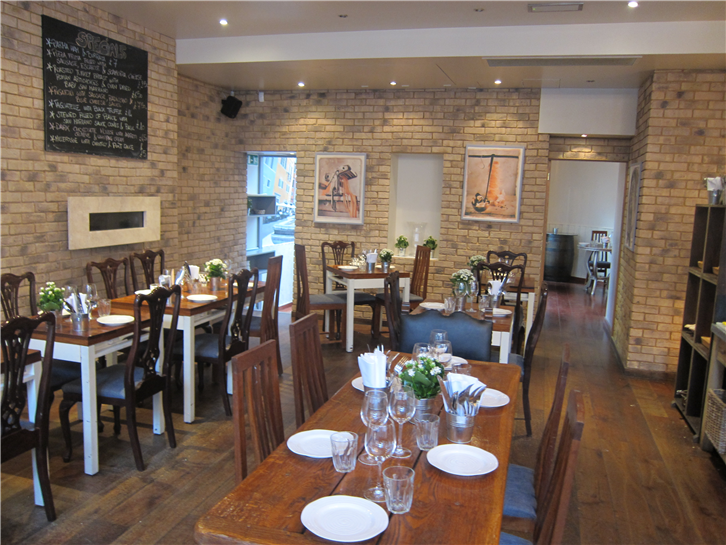 The Bombay Palace has re-opened after a major refurbishment, but with the same head chef, and the cooking seemed to me to be of a similar level to how I recall it on a visit many years ago. The problem is that the food is merely pleasant, but prices are set very high indeed. The poor value for money was exacerbated on our visit by some truly dreadful service. Avoid.

Briciole (pictured) is a casual Italian deli and restaurant in Marylebone, with bread and pasta made from scratch and a kindly priced wine list. It seemed to me good value, pleasant food, and well worth a look if you are in the area. It is not high end food, but none the worse for that, and the modest wine markups, especially at the high end of the list, will be attractive to those who like to drink good wine but resent paying excessive restaurant wine prices.

The Ship and The Thatched House are sister pubs, The Ship the more ambitious of the two in culinary terms. The Thatched House is a simple neighbourhood pub, delivering decent food. The Ship managed a particularly good Scotch egg, and otherwise enjoyable and fairly priced pub food, with the bonus of a riverside setting.

Roganic, sister to l'Enclume in Cumbria, made quite a mark on the London restaurant scene under its opening chef Ben Spalding, but with Ben having moved on to a new venture I was curious to see whether the cooking had changed much. Over the course of a ten course tasting menu the new kitchen, under Andy Tomlinson, seemed to be keeping up the high standard. Roganic delivers interesting modern food, and benefits from enthusiastic and knowledgeable waiting staff.

Since my return from Hokkaido I also ventured back to some old favourites. The Royal Oak delivers terrific British food in a pub setting, and thoroughly deserved its Michelin star. We had a lovely meal, including a particularly fine rabbit and bacon pie.

Roka continues to pack in the punters for its take on Japanese food, though at £37 for a three small courses with water for lunch, no-one could accuse it of being cheap. The open kitchen is fun to watch, and the dishes that I ate were very competent, but it is an expensive place for the quality of food that appears on the plate. Perhaps it is all the time I have spent in Japan recently, but the food seemed slightly less good than I remember it.

Finally, Tangawizi continues to deliver authentic North Indian food in its simple setting just on the far side of Richmond Bridge. Tandoori cooking is skilful, breads are very good, and the curries well spiced and have great flavour. The meal here was less than half the price of The Bombay Palace, yet was vastly better, and the service here is very friendly.