Beyond Kaiseki - the Kyoto Dining Scene
Saturday, May 07th , 2016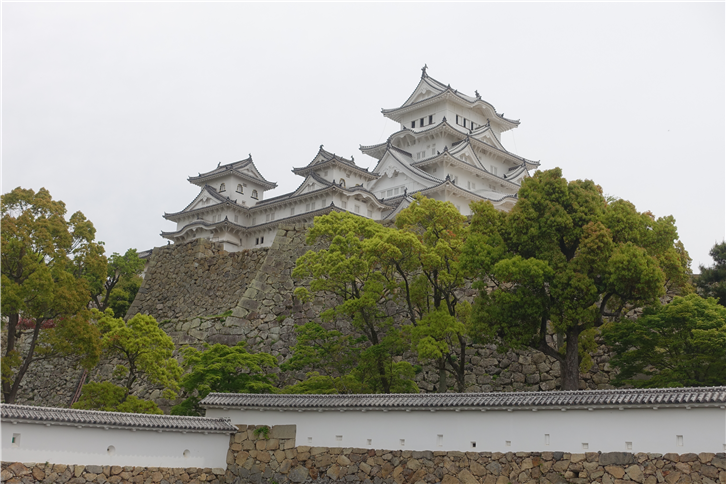 Kyoto was the capital of Japan for centuries (after Nara but before Tokyo) and epitomises old Japan. Deliberately saved from bombing during the Second World War by a far-sighted decision from Secretary of State Henry Stimson (who realised that Japan would be a useful ally against communism after the war concluded), it has 17 UNESCO world heritage sites. Kyoto has 1,600 temples and around 3,000 gardens, many of them maintained unchanged for centuries. It is also the home to kaiseki cuisine, the elaborate tasting menu format that is the most sophisticated of Japanese food styles.
An example of this is Nakahigashi, where the chef gathers herbs and vegetables from the surrounding area each day to use in his cooking. We had a very impressive meal here, and although this has two Michelin stars I preferred it to most of the three star kaiseki restaurants in the city, and at a far more moderate price (but only takes cash). This is perhaps the best value kaiseki in the city that I have encountered so far, and I highly recommend it.
Another intriguing discovery for me was Tempura Matsu, which despite its name is a kaiseki restaurant (at one time it specialised in tempura). This restaurant has no stars at all but was recommended to me by several people, and was featured at length in the excellent book "Rice, Noodle, Fish" by Matt Goulding on his culinary journeys around Japan. This is less traditional in style than many kaiseki restaurants, but featured some extremely impressive dishes, and for me was up there with the top restaurants in the city. As we discovered, it is cash only.
Away from the world of kaiseki I was intrigued to explore some sushi styles that differ from the nigiri style that has now become almost universal outside of Japan. Izuju served "box sushi", where the rice is pressed into squares rather than being shaped by hand, as well as saba and iniri. Saba involves rolling mackerel with rice inside kelp rolls, and iniri has the rice wrapped inside a fried tofu pouch. Izuju is a casual place, so do not expect any of the elaborate rituals that you find inside a Tokyo sushu temple, but it is interesting to see how varied sushi can be.
I also tried Honke Owariya, a soba noodle shop that originally sold confectionary and has been operating uninterrupted since 1465; it is now in the sixteenth generation of family ownership. It is a simple place but is inexpensive, and in a world where restaurants that last a decade are regarded as veterans, clearly has been doing something right for a very, very long time.
Yoshikawa is a pleasant tempura restaurant within a ryoken that has a pretty garden and is used to foreign visitors, so you will encounter staff that speak quite good English. The tempura is pleasant rather than top notch, and the prices are a little high for the level of food being delivered, but it was a pleasant enough experience and would be a good place for those seeking a gentle introduction to food in Kyoto.
L'Embellir was a surprise to me, a relatively new one star French restaurant that is the offshoot of a restaurant in Tokyo. It is located in a lovely temple complex, and the food was beautifully presented and impressive. For me this was solid two star Michelin level, had excellent service and frankly would trounce most two star restaurants in London.
Takasebune is a small family-run tempura shop in old Kyoto, run by an elderly gentleman and his daughter. It is a simple and inexpensive place, and although the tempura is not as sophisticated as you will find at high-end tempura restaurants elsewhere it is inexpensive and friendly.
If you are craving variety after all the kaiseki then you could do worse than Mughal, one of just a handful of Indian restaurants in the city. It is located by a pretty canal and is objectively nothing remarkable, though the food is entirely competent and the Japanese owner, who visits India, is very welcoming. The food scene in Kyoto is a lot more uniform than Tokyo, with the vast majority of high end restaurants serving kaiseki style, so I find a decent curry to be a welcome change after a few days of tasting menus.
Just 45 minutes from Kyoto on the fastest shinkansen train is Himeji, a city with the finest castle in Japan (pictured) on its outskirts. Over the years most of the original mediaeval castles in Japan have been lost to assorted forms of destruction, and many of those that you see today are reproductions (Osaka castle even has a lift within its keep, which was unlikely to have been an original feature). Himeji castle is one of the few originals left and happens to be the finest architecturally. It has recently completed a multi-year restoration program when it was hidden under giant tarpaulins, but has now emerged into the light. The outer walls and moat are almost a kilometre in each direction, and there are fine view from the top of the keep, though you need to climb six remarkably steep flights of stairs to reach it. It is well worth a visit if you are passing through the area and is conveniently on the main shinkansen line from Tokyo to Hiroshima, the next stop after Kobe travelling west.
My complete set of Kyoto reviews can be viewed here:
In other news, the Grocer magazine's annual "Most Influential People in Food" list was published. It is scored using a proprietary system involving 2,000 separate data elements in three categories:
Online: Presence; frequency and quality of content; number of followers; and objectives of their social media channels

Offline: Ability to affect the laws, price or availability of food; appearance in offline channels such as books and TV; and the objectives of those media

Brand Strength: The number of social mentions of themselves and/or their brand; amount of mentions online returned in the last year; increase or decrease in mentions in the last year; are they known as a spokesperson for an area of the industry; creators of original material such as diets, etc.
I actually squeezed into this list, ahead of luminaries such as Fay Maschler and A.A. Gill.