Dining in Sydney
Saturday, September 03rd , 2011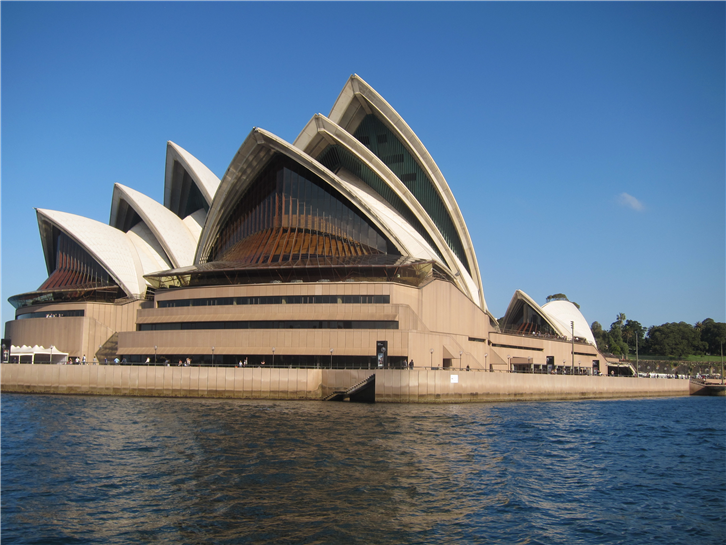 Sydney is one of my favourite cities to visit. It has a beautiful natural setting, with the harbour, spectacular beaches like Manly and Bondi, and numerous attractive bays and points. On this trip I tried a mix of high end dining and more casual places.
At the latter end I tried a couple of dim sum places. East Ocean is a long established place but it seemed quite ordinary to me. Much better was Din Tai Fung, a Taiwanese fast-food chain specialising in dumplings, which was very good value.

Ms G was modern pan-Asian cooking in a trendy setting, with very capable food and a good atmosphere.
Icebergs serves mainly seafood in a striking setting on cliffs overlooking Bondi beach – I even saw a pod of dolphins swimming near the beach when looking out from my table. The food was simple and capably cooked, though you are certainly paying a premium for the view.

It was a similar story at the more up-market Quay, which has a superb view across Sydney Harbour to the Opera House (pictured). The food was good, though quite expensive given the level of cooking, though this large restaurant was completely full and clearly very successful commercially.

Rockpool Bar and Grill was another place where there was a sense that you were paying for the setting, in this case a beautiful dining room with vaulting ceiling and spectacular display of Riedel glasses. Essentially a superior steak house, the food was good but the bill was distinctly high.

Est was a very fashionable restaurant in a trendy boutique hotel, serving classical food in a quite large dining room. The food was well executed but I confess to preferring this chef's cooking when he was at the small scale Cicada (sadly now no more) many years ago.

The two best gastronomic experiences by some margin were Marque and Tetsuya. Marque was ultra-modern cooking with elaborate and unusual ingredient combinations, just the kind of food I often dislike. Not here though, as the cooking not only was technically very accurate, but the ingredients were good and the flavour combinations worked harmoniously. Service was superb. An interview with chef Mark Best is here.

Tetsuya has moved premises since my last visit here over a decade ago, and is now in a beautiful building with a lovely Japanese garden. The meal here was technically hard to fault, with enjoyable dishes and very slick service. An interview with Tetsuya can be found here.