Ambitious London openings
Saturday, May 12th , 2018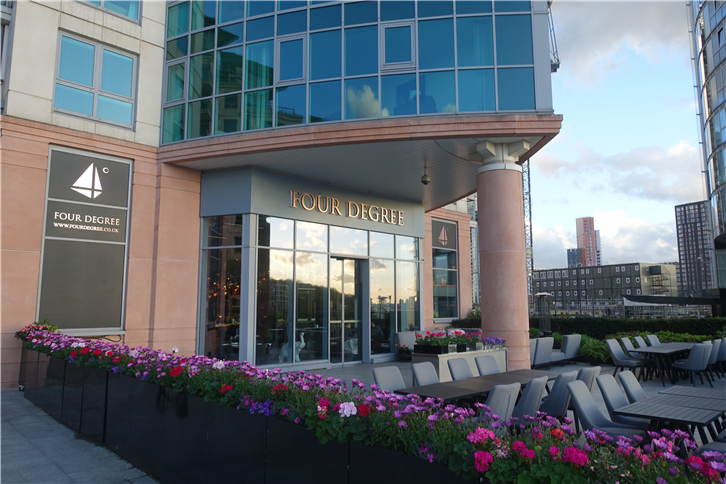 Four Degree is a very ambitious Asian fusion restaurant on the river in Vauxhall. It is very smartly decorated and the menu is reminiscent of places such as Roka and Zuma, with mostly Japanese style dishes. Black cod with miso was suitably buttery and the dish of the night, but even the desserts were surprisingly well made. It is far from cheap here, and given its cavernous dimensions, seating well over 300 customers at capacity, I am curious to see how it will get on, but it is certainly interesting.
If you ever ate at Apsleys at The Lanesborough hotel before it closed when the hotel changed hands, and wondered where the chef there went – now you have your answer. Heros de Agostinis, who has worked for many years with Heinz Beck at Pergola in Rome and other places, now heads up Beck at Browns, the hotel in Albemarle Street. The Italian menu here is rather more casual than at Apsleys but still has plenty of ambition, with dishes such as red mullet stuffed with olives and tomatoes and cooked in a thin layer of bread. The risotto here was top notch and worth visiting for this alone. Prices are high and the wine list takes no prisoners, but there is no doubting that the chef here can cook.
I had my 72nd meal at Hedone. As usual, I opted for the "carte blanche" tasting menu, which on this visit included highlights of a sashimi scallop so fresh it was still moving on the plate when it was served and lovely asparagus from Pertuis in Provence. I particularly liked a foie gras nibble that was served inside a very delicate millefeuille, and top-notch red mullet with artichoke and bouillabaisse. Rum baba was a lovely way to finish the lengthy meal. Given the very high grade ingredients, labour intensive dishes and inventiveness, Michelin's award of just a single star here gets harder to understand with each visit.