Dining in Dublin
Saturday, July 28th , 2018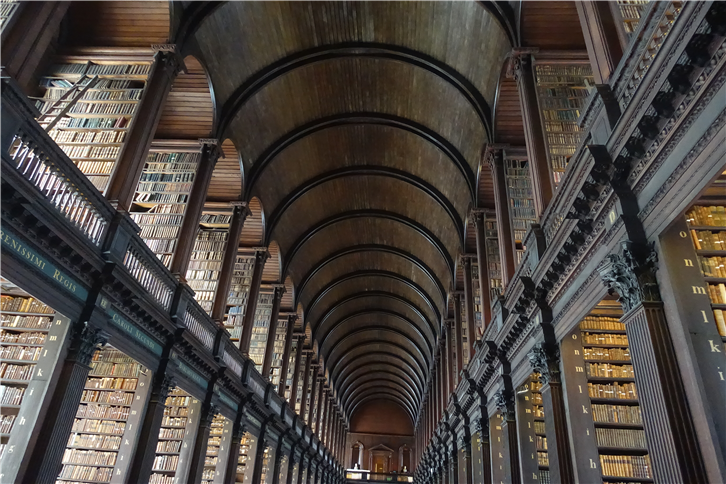 I had a short trip to Dublin, which I have always found to be a particularly attractive city to visit. It has some handsome buildings, such as the Trinity College Library (pictured), nice green spaces like St Stephens Green in the centre, properly kept Guinness, friendly people and some very good restaurants. The most famous of these is Patrick Guilbaud, a long-established French restaurant and the only one in Ireland to have two Michelin stars. I had a top-notch meal there, the culinary technique impeccable and the ingredients superb e.g. a fine piece of turbot from a huge 9kg fish, an excellent calf sweetbread dish, and superb wild salmon.
Another favourite is The Greenhouse, which has a Finnish chef with an Irish accent and one Michelin star. This was another superb meal, from the signature foie gras royale, through to lovely turbot and top of the range Anjou pigeon. The cooking is very precise and is now based on really top-notch produce. The Greenhouse is a superb restaurant, and I really have no idea why it only has one star.
The latest Dublin restaurant to gain a star is the very different Heron and Grey, a tiny place serving a couple of dozen people in a little room off a street market. This is much more hipster in style, with a no-choice eleven course tasting menu, tattooed staff and plenty of exotic ingredients that you will almost certainly need to Google. It is the hottest ticket in town, and I wasn't especially looking forward to it, but it turns out that the kitchen can actually cook very well, with complex dishes having implausible numbers of components that somehow work together harmoniously. The staff were infectiously enthusiastic and the lengthy meal was a lot of fun.
In other news, the Singapore Michelin guide came out. With the closure of Joel Robuchon and its attendant Atelier Robuchon next door, along with the unconnected closure of Restaurant Andre, Singapore now has no three stars and five two star places, as well as 33 one star establishments (there were four new one stars and three deletions at the one star level).