London Latest
Saturday, December 26th , 2015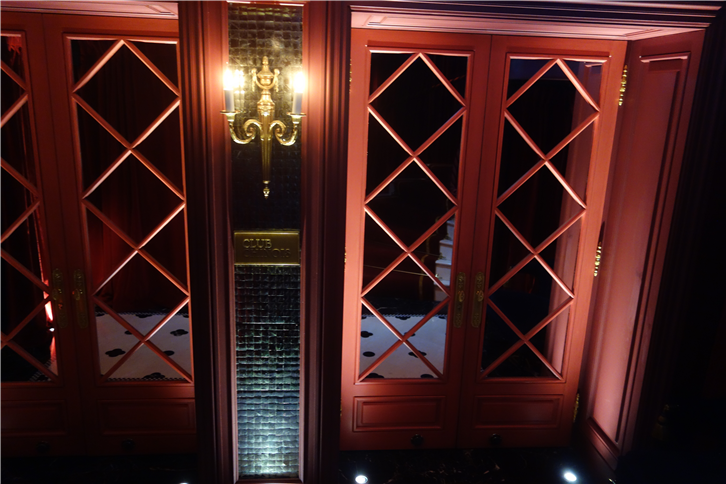 Noble Rot has a chef who worked for five years at the wonderful Sportsman, and the latter's chef/owner Stephen Harris is helping out here on a consulting basis too. Some dishes from the Sportsman are recognisable if a little different, such as excellent focaccia and lovely slip soles with spicy smoked butter. An excellent apple and hazelnut tart showed that the dessert section can deliver, and a particularly well-chosen and tolerably priced wine list is a major bonus. This is one of the best London openings of the year, and is the kind of place I could eat in day in, day out. A winner.
Park Chinois is the latest extravaganza from Alan Yau, intended to conjure up an image of a 1930s Shanghai jazz club. The room is suitably louche and gorgeous, and there are more waiters than you can shake a stick at, as well as live music from time to time. The menu is quite confusing though, with peculiar touches such as a carbonara with sea urchin (you read that correctly) in addition to more familiar Chinese fare. The food was mostly quite good, but not in the league of Hakkasan or Yauatcha, which Yau originally set up. Sadly the prices are astronomical, reflecting the Berkeley Square location and the massive fit-out costs of the restaurant. The charming staff and lovely room almost carry you through the meal, but reality sinks in with a thump when the gigantic bill arrives.
Tarantella is a family-run neighbourhood restaurant in Chiswick. It is not a destination restaurant but it is a definite cut above the chain restaurants that populate so much of the Chiswick High Road these days. Pasta dishes are nicely made, as are the pizzas, and the welcome is warm. The wine list is modest but affordable, starting at £15.
Madhu's at the Sheraton is the posh sister of Madhu's in Southall, with décor that could easily be found in Mayfair rather than a Heathrow airport hotel on the Bath Road. The other distinction between this and its older sibling is its robata grill, giving a pleasing smoky note to dishes that are grilled over charcoal. Dishes such as the superb spicy lamb chops here benefit from this, as do the excellent cauliflower florets. If you are ever in the vicinity of Heathrow then give it a try.
I had a deeper look at La Liste, launched last week as a "meta list" of 1000 global restaurants. It takes as input guides like Michelin, San Pellegrino and Gault Millault as well as many other more local ones (around 200 in total, including this very site that you are readingl). Based on a very large survey of chefs, it assigns a trust rating to each of these guides, then for each restaurant it takes a normalised score in each of these guides times their trust factor, so in other words a weighted average. This accounts for 75% of the marks, the rest being made up from popular voting sites like Tripadvisor, Yelp, Zagat etc. The methodology seems pretty sensible at first glance, and certainly throws up some interesting results.
As a general rule, France and Japan, followed by the USA and Italy, have the most entrants in the La Liste Top 100. Compared to San Pellegrino it is much kinder to France and Japan in particular (which is barely touched by San Pellegrino) and much harsher on Scandinavia and South America. This seems fair enough to me, as France and Japan surely have the deepest seam of world class restaurants.
Some favourites of San Pellegrino do not feature in the top 100 of La Liste (there are only 25 of the top 100 in common, though almost all The Pellegrino feature somewhere in the top 1,000). It does not slavishly follow Michelin even in France, where a couple of two star places ended ahead of several three stars. It differs wildly from Michelin in Japan, where only 9 of the 23 restaurants in La Liste Top 100 have three Michelin stars. The UK has Gordon Ramsay as its solitary top 100 entry, so avoids some of the (to me) unjustiifed generosity of some lists towards the UK's trendiest restaurants: Dinner is a nice restaurant, but 7th best in the world? Please. It is 453rd on La Liste.
No list like this is ever going to be definitive, and indeed as I mentioned last week it is to an extent a fruitless exercise trying to apply such precision to a subjective thing like whether you prefer one restaurant to another. Nonetheless, it seems logical and is somewhat transparent since you can see the scores on which each restaurant is based. It is also less susceptible to manipulation than most since it is based on so many other pre-existing lists. I think it is a welcome addition to the perennial debate about top restaurants.
Happy New Year to everyone!