A tale of two curries
Saturday, February 24th , 2007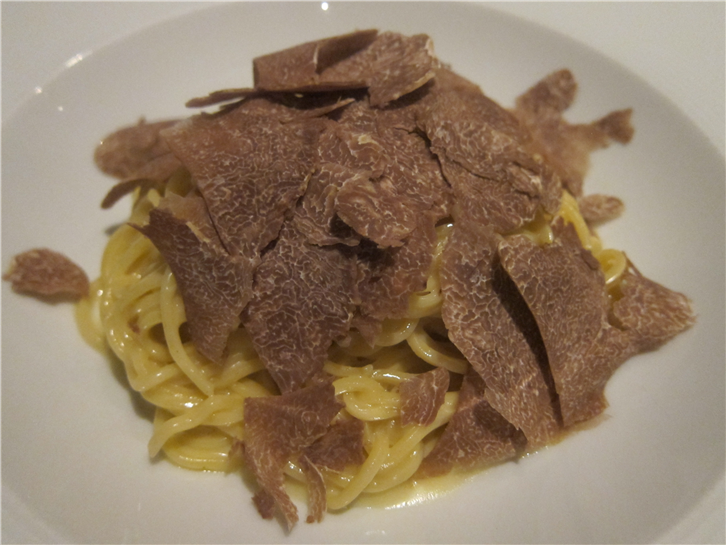 Three years ago I was very impressed with an Indian restaurant called Yatra, which despite a weird setting (more a bar and nightclub than a restaurant, with some terrible decor) served great food. Then one day I went and the food was rubbish, since the chef had left. I finally found out this week where he had gone: Tangawizi in Twickenham, where along with a tandoor chef from Bhukara in Delhi he is again producing very fine Indian food. See my review of the restaurant for details but this is a place you should definitely go to if in the Richmond or Twickenham area.
I also had a somewhat improved meal at Agni, a small place in Hammersmith with an ex Zaika chef. This is perhaps the best of the numerous Indian restaurants in this area (2/10 level). I had a particularly lovely meal at Zafferano this week (one dish pictured), featuring some stunning bruschetta with lovely wild mushrooms. They seem very much on top of their game recently. I also stumbled into some late night tapas at a place called Don Fernando in Richmond, which after some quite pleasant simple dishes served a truly dire bought-in cheesecake dessert with dismal quality ice cream which I ate one mouthful of and then ended up paying for as I was too tired to argue with the glowering waiter. I know waiters are not well rewarded, but this was inexcusable service.
The Michelin 2007 France results are officially out. In Paris Astrance duly gained its 3rd star, while less obviously there were third stars for Meurice and Pre Catalan, which has been 2 stars for over a decade. Lameloise regains its 3rd star and another old timer, Pic, is elevated to three stars. Taillevent loses its third star after 34 years, as does Cinq. Out of the running entirely are Ferme de Mon Pere (closed), l'Esperance, which is in bankruptcy proceedings, and Buerehiesel, where the chef retired.
Cinq was a surprise to me but I gather from food expert Michael Jonsson that there have been management problems recently that may have contributed to a dip in standards. This is a shame, as Philippe Legendre is a truly gifted chef. My personal suggestion for 3 stars would be Les Ambassadeurs, which has to be content with a "rising star" accolade. This year France has 26 three star places, 65 two stars and 436 one star restaurants.
To summarise the 3 star scene in 2007:
Promotions
Akelarre - Spain
Lameloise - France
Pic - France
Pre Catelan - France
Astrance - France
Meurice - France
Demotions
Im Schiffchen - Germany
Comme Chez Soi - Brussels
Parheuvel (chef change) - Netherlands
Ferme de mon Pere (closed) - France
Buerehiesel (chef change) - France
Esperance (in bankruptcy proceedings) - France
Taillevent - France
Cinq - France
There are now 56 three star places overall.