Best dishes of 2018
Saturday, December 29th , 2018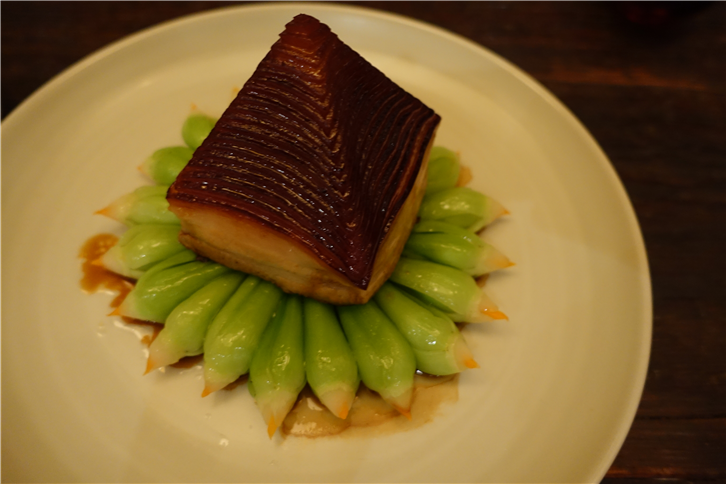 It seemed appropriate that my last restaurant meal this year would be at The Ritz, where I have enjoyed a series of really top class meals over the course of 2018. Following canapes of coronation chicken tuile, crab and caviar tartlet and Comte gougeres, this meal featured a silky terrine of partridge, mallard and pheasant, salt-baked celeriac with truffle sauce, turbot with champagne sauce, pigeon with black truffle, a cheese course with honey from hives on the roof of The Ritz, and finally a lovely dessert of chestnut, Poire Williams, rum and spun sugar. Total bill - £99 each, including coffee, mineral water. and a glass of wine. Lovely service, a grand dining room and proper cooking - the Ritz is truly grown-up dining experience.
I had some quite good meals in the past year, but was asked by a reader to pick the very best dishes, as distinct from restaurants, across the year. You can click through to the reviews to see more detail on the dishes. These are in no particular order, though certainly no dish was better than the first one, the dongpo pork.
Dongpo pork at 28 Hubin Road in Hangzhou was a remarkable dish, dazzling both for its flavour and the technical skill needed to make it.
Toasted bread with black truffle and butter sauce foam at Ultraviolet in Shanghai.
Saddle of rabbit with anchovies at Atelier in Munich.
Charcoal grilled squab pigeon with rosemary at Ryugin in Taipei.
Red mullet with basil espuma at Schwarzwaldstube in the Black Forest.
Saffron risotto at Le Calandre in Rubano, the signature dish of the restaurant.
Bresse chicken laced with black truffles and sauce Albufera at Auberge de l'Ill in Alsace. Classic perfection.
Fried langoustine tail with puffed rice at Frantzen in Stockholm.
Turbot from 9kg fish with violet artichoke fricassee at Patrick Guilbaud in Dublin.
Vegetable mosaic at Guy Savoy in Paris.
After all that, two desserts to finish things off.
First is the extraordinary Dromes apricot dessert at Pic in Valence from what may be the best pastry section in France these days.
The other is a stunning clementine dessert with shortbread biscuit at Les Amis in Singapore.
I hope that you had a great Christmas, and wishing you all a very happy New Year.