A week of west london restaurants
Saturday, December 11th , 2010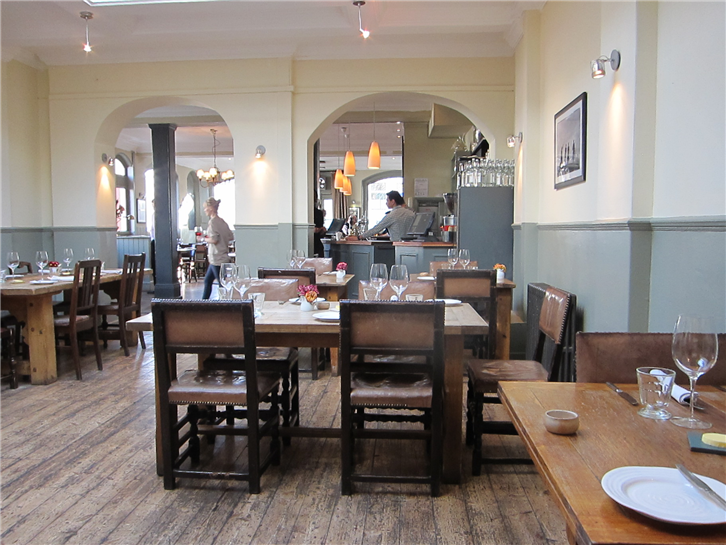 December is not a good month for eating out in London. The restaurants fill with drunken office parties, the kitchens are at full tilt, waiters are stressed. Restaurateurs fill their boots by packing in extra tables. If ever there is a good month to hunker down and cook at home, December is it.
At the Churchill Arms they are used to turning tables – you get a one hour dinner slot only. This Kensington boozer serves Thai food in the dining room at the back, and very pleasant it was. The room is a jungle of hanging baskets and cluttered walls, but the simple curries and stir-fried dishes appeared rapidly and were better executed than plenty of smarter Thai restaurants. At £6.95 for a main dish, including rice, it is hard to find much to dislike about this.
Of course the prices at the Churchill would be considered outrageous at old favourite Diwana Bhel Poori in Euston, where we ate a very pleasant meal this week for £18 for two, including service and drinks. There may be no tablecloths or dinner-jacketed waiters, but the South Indian snacks, such as (naturally) the bhel poori, are very good indeed, while I think the samosas here are as good as any in London. If anyone tells you that it is impossible to get decent food in London for under a tenner, this is the place to bring them.
Restaurant Michael Nadra is on good form at present, the chef seemingly revelling in his change of format to offering meat as well as fish. Venison was very nicely cooked, served with good triple-cooked chips, while a tarte tatin was also nicely made and avoided the over-caramelisation that so often mars this classic dish.
The Harwood Arms (pictured) is so successful now that the only reason I have not been back more recently is that I can never seem to get a reservation. This week as ever we enjoyed the game, such as pheasant Kiev and roe deer with red cabbage. However the dish that really struck me was a starter of chestnut veloute, made with chicken stock and with tremendous depth of flavour; this soup would have graced the table of a two star Michelin restaurant. It is great to see such exemplary cooking in such a simple setting, with moderate prices.
I won't dwell on Franco Manca since I have written about it before; suffice it to say that it serves the best pizzas in London, at a lower price than a Pizza Hut.