Pied a Terre after Shane Osborn
Saturday, September 10th , 2011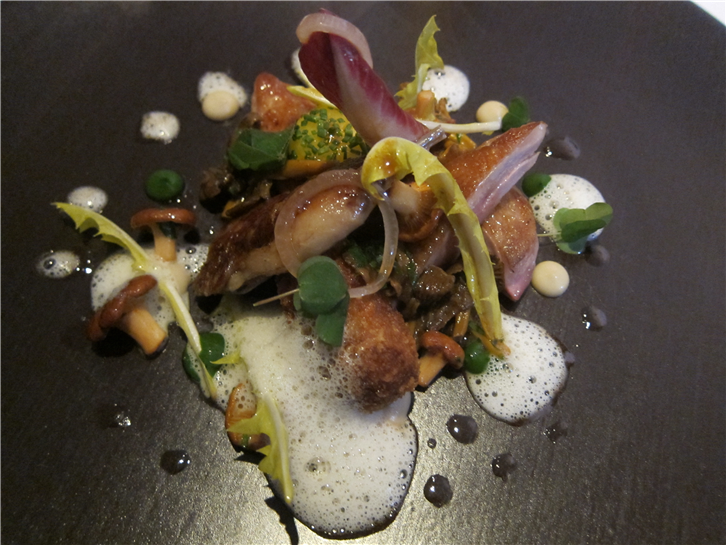 Portobello Ristorante Pizzeria perhaps undersells itself by the use of "pizzeria" in its title, which rather implies that it mainly does pizzas. In fact there is a full Italian menu, and I ate a pleasant rabbit tagliatelle dish as well as sampling some very pleasant slices of pizza. This is a restaurant that goes as far as making its own bread, and the service I encountered was that genuinely friendly style of service that some Italian people seem able to provide effortlessly.
Sushi Say is another neighbourhood restaurant with good service, but this time serving Japanese food in the unpromising location of Willesden (which saw off even the excellent Sabras). Sushi Say seems to be prospering, and certainly provided some pleasant dishes, though this was good rather than outstanding Japanese food.

Fitou is the new branding of what was Number One Café (no ownership change is involved). I had a good meal here earlier this year but my meal this week was better. Fitou serves classical Thai dishes in a simple setting at a very fair price indeed. The spicing in a red curry with prawns was well-judged, and sea bass had a refreshing citrus and chill sauce. You can bring your own alcohol at no charge, and £18 per person bought us more food that we could finish; I wish London had more places like this.

I paid my first visit to Pied a Terre since Shane Osborn left, and initially my meal seemed to still be at the same high standard, with excellent nibbles and a lovely quail starter (pictured). However an over-salted main dish and less than stellar desserts meant that the overall experience was less consistent than previously, so I have nudged the score on the web site down a notch to reflect this.

I also popped back to my long-time favourite Gujerati snack place, Diwana Bhel Poori. The bench seating is uncomfortable and the service can be a little scatty, but for year after year they have delivered excellent vegetarian dishes such as aloo papri chat with vibrant spices. This week some pooris were very good as well as the usual dishes I eat here, but as ever it is best to stick to the snacks rather than stray into the curries, which are ordinary, and the only reason I don't score this place higher. We seriously over-ordered and still did not spend £15 a head.