I try the new Corrigan's Mayfair
Saturday, December 06th , 2008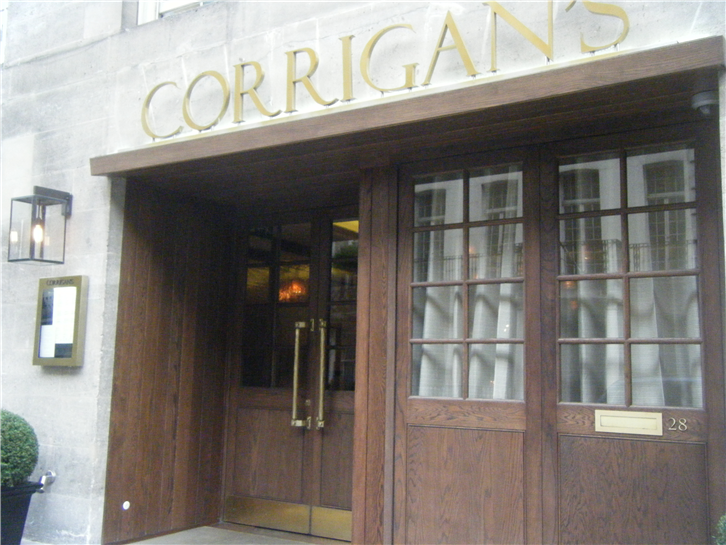 Richard Corrigan has finally given up on the Lindsay House (which will close next summer) and has moved its head chef to
Corrigan's Mayfair
. The new hotel venue is much larger than the Lindsay House and has a far better kitchen, allowing a wider menu. The menu is in a culinary sense less ambitious than the Lindsay House, but this is no bad thing, with more emphasis on crowd pleasing dishes and less on trying to please Michelin inspectors. The appealing menu is a real strength (the Lindsay house had a very limited menu), as is the use of good quality ingredients. Cooking was generally pretty capable on the night of our visit, with no dazzling highs but also no really poor dishes, though there was still some inconsistency present in the dishes sampled. This is likely to be one of the last fairly up-market openings in London for a while given the current economic climate, but its attractive menu and generally acceptable prices will probably stand it in good stead during the coming months.
When I first visited
Le Café Anglais
it was still in its soft opening, and things were pretty chaotic; I noted at the time that I would return after a few months when things had settled down. I am pleased to say that on this visit the kitchen has settled down significantly, and the food is much more consistent; I have increased the web site score to reflect this. The strengths here are the large and appealing menu, with plenty of roasts and lots of classic dishes such as grilled Dover Sole (pictured), and the attractive room with its art deco style lamps and open kitchen.
One thing in common with Le Café Anglais and Corrigans that I hope disappears is a relic from the 1980s that I had assumed was truly dead and buried, the "cover charge" (£1.50 in both cases). Restaurateurs, please charge for the food but do not try and make the prices appear smaller than they are by a sneaky extra charge. This appears in the Corrigan's case at the bottom left corner in small print, outside the frame of the main menu - more a covert charge than a cover charge. It is bad enough listing the vegetables as extras. What next, a separate charge for the cutlery? Maybe a little extra supplement towards the gas bill? The cover charge is like some ghastly zombie risen from the grave and after your wallet.
Khans
is an institution in Westbourne Grove that I first visited when I arrived in London in 1983. It is a vast, bustling place, with rapid turnover of diners. Coming here is rather like stepping back in time, from the 1970s décor complete with plastic palm trees to the traditional menu. I found the better cooking to be from the tandoor. The naan in particular was very good indeed, and the chicken tikka entirely respectable, even if the quality of the chicken used left something to be desired. The cooking is on less certain ground when it comes to some of the curries e.g. bhindi was just a soggy mess, while a forensic scientist would have taken a while to find the prawns in the prawn biriani. However overall it is pretty decent cooking, still better than most high street curry houses, and it does have a certain nostalgia factor.
The Brilliant
is an old friend, delivering fine Punjabi cooking in Southall. The premises have expanded several times over the years and are now quite smart, but the cooking has remained pleasingly reliable. This week it made its second appearance on Channel 4's "Cookalong" with Gordon Ramsay, which is a nice tribute to the quality of the cooking and excellent PR for the restaurant, which is now even busier as a result. Its strengths are the rich, spicy curry sauces with its main courses, such as methi chicken, but its tandoori cooking is also very capable. Now that they have the light, airy romali roti (I know of just one other London restaurant offering this, Haandi in Edgware) I am also happy on the bread front here. There is a long, appealing menu and the cooking is remarkably consistent, with very few slips in standard. I have been coming here regularly for over 15 years, and the cooking is still very good indeed, as well as being remarkable value. The portions are extremely generous, and £25 a head including drinks gets us enough food for a follow up takeaway meal as a bonus.
Michelin's new guide to Hong Kong and Macau came out this week, and it looks controversial to me, in that Michelin are definitely ploughing their own furrow. In particular, it has a surprisingly low correlation with local food guides (this is true of Tokyo also).
There are two three star places:
Robuchon Galera (Macau)
Lung King Heen
No surprises on the first of these, but the second (at the Four Seasons hotel) is not widely cited as one of the very top places in Hong Kong; the exception is the perceptive critic Terry Durack, who sang its praises two years ago. I am pleased that a Chinese place has made it to three stars (assuming it is really worthy of the accolade). Based on the two dazzling meals I had at "Made in China" in Beijing, I see no reason why Chinese food cannot compete at the top of world cooking.
The two stars are:
Amber
Bo Innovation
Caprice
l'Atelier du Joel Robuchon
Shang Palace
Summer Palace
t'Ang Court
Tim's Kitchen (Macao)
There are also the following one star places:
Fook Lam Moon
Forum
Hutong
Lei Garden (two branches)
Ming Court
Petrus
Pierre
Regal Palace
Shanghai Garden
The Golden Leaf
The Square
Tim's Kitchen
Yung Kee
Imperial Court (Macao)
The Eight (Macao)
Tung Yee Heen (Macao)
Yimg (Macao).
In all there are two 3 star places, 8 two stars and 18 one star establishments.
Pierre Gagnaire's establishment Pierre (which I had heard positive things about) gets just one star, while Felix, which turns up at #49 in the entertaining "World's Top 50 Restaurants" list, gets precisely no recognition from Michelin. The Hong Kong places that appear in the new Miele Guide to Asia, which are partly chosen by local food writers and partly by the public, have little in common with Michelin's selection, other than Atelier Robuchon. It is ten years since I was last in Hong Kong, so I cannot offer a personal view, but there are certainly some choices (and omissions) that will raise eyebrows. In an interview it was revealed that the inspection team involved ten Europeans and two Chinese. Presumably this will change over time, as the Tokyo team has already done.