The Buzzing Beehive
Saturday, May 28th , 2016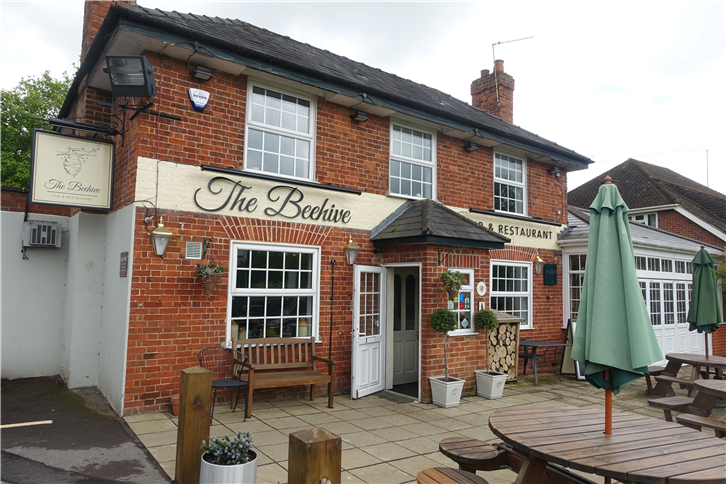 Oldroyd in Upper Street features tiny, close-packed tables and a lively atmosphere. The dishes that we tried were generally quite good, including enjoyable malfatti of spinach and ricotta, and pleasant spring chicken Orvietto. There was the odd slip, notably with some soggy zucchini fries, but the cooking was decent overall. However the service was rather sloppy and the wine list was lazily labelled, with no vintages and some ambiguous descriptions. Although it is not wildly expensive, it does not seem to me to be good value.
The Beehive (pictured) in Berkhire is now owned by Dominic Chapman, who was previously head chef of Michelin-starred The Royal Oak. My recent lunch there was more consistent than my first meal there in its early days. A dish of wild rabbit lasagne with wood blewit mushrooms was especially good, as was a duck dish with braised peas flavoured with bacon. The room looks out over the local cricket pitch and was packed out even on a midweek lunch. It is well worth trying if you are in the Maidenhead area.
Bonhams is the best London restaurant opening in the last two years. Tom Kemble uses unusually high quality ingredients and is a talented chef. Pigeon with smoked potatoes and ras el hanout spices was particularly impressive at my most recent meal there. To add to the appeal of the overall package, its wine list is the best priced in London, with the costlier bottles mostly around their retail price rather than the outrageous mark-ups that are the norm in Mayfair.
Cambio de Tercio has long been the best Spanish restaurant in London, always packed out with Spanish diners whenever I have been there. We had a very enjoyable meal this week, with star dishes being slow-cooked confit tomatoes, morels with foie gras and excellent white asparagus. I always love the modern patatas bravas here, a replica of a dish at Madrid restaurant Sergio Arola.
L'Amorosa in Ravenscourt Park is a regular haunt of mine, with chef and owner Andy Needham producing many similar dishes to when he was head chef at Zafferano when it had a Michelin star. His tagliatelle ragu is excellent, but he is especially good at risotto. At my most recent meal there his risotto of asparagus, king prawns and San Marzano tomatoes was a terrific dish, easily of Michelin star quality.