The Angela Hartnett empire expands
Saturday, February 22nd , 2014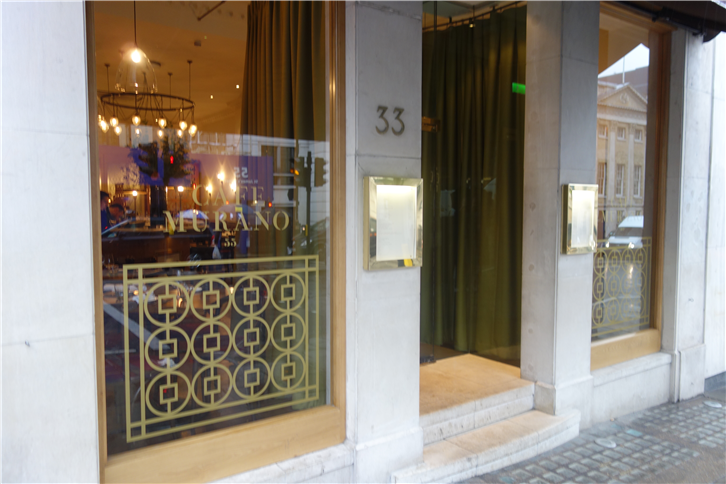 Café Murano (pictured) is the latest venture from Angela Hartnett, and very successful it is too. I enjoyed good arancini and spaghetti carbonara from the menu of mostly Italian dishes, and service was excellent. The room has been attractively laid out and the mix of appealing dishes, capable cooking and friendly staff mean that this will be sure to prosper once the initial launch hype has died down.
Madhu's is one of my long term haunts in Southall, a restaurant that is partly a showcase for a highly successful Indian wedding catering business. Its owner has now decided to open a smarter venue, this new Madhu's being in the Sheraton hotel out towards Heathrow. The décor is genuinely up-market, and the cooking is more ambitious too: a higher quality butcher and a new robata grill mean that the tandoori meat dishes such as the tandoori lamb chops are lovely. This is a large and quite ambitious opening for an airport hotel, but if you are in that area then it is worth a look.
Parlour is the home of the talented Jesse Dunford Woods, who revels in cooking retro British dishes like Chicken Kiev and Arctic roll. In this basic boozer in Kensal Rise he is producing some of the more inventive food in London, with very unusual salads, excellent bread, superb smoked salmon and a beef pie of stunning quality. An example of the innovation is the "haddock chip", with the fish rolled out and coated in potato strands before being fried, a clever take on fish and chips. Beef Wellington showed the chef's classical training paying off: this is a restaurant that you should seek out.
Sushi Tetsu is the nearest thing that you will find in London to a proper Tokyo sushi restaurant. With just seven seats arrayed around the wooden counter, it is of the scale that is often found in Japan. The chef has gone to considerable lengths to source his fish, not relying on the large company that supply most of London's top sushi restaurants, and it shows. The quality of the fish may not be able to match that at Tsukiji market in Tokyo, but it is a step up from anything that I have encountered in the UK. This is perhaps the most difficult reservation to get in London.