The Bristol in Paris
Saturday, January 24th , 2009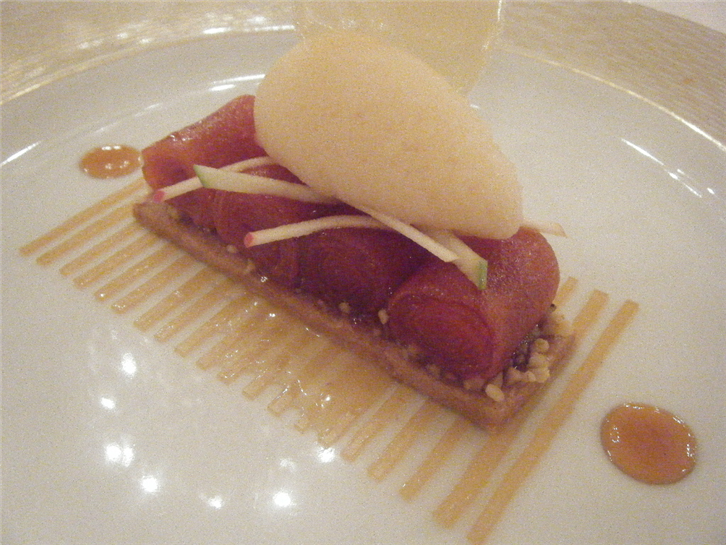 The Bristol is a two star Michelin restaurant (head chef Eric Frechon) in Paris with an espoir in the 2008 Michelin i.e. tipped for a possible third star at some point. It is a hotel dining room with plenty of attractive wood panelling and chandeliers, though its lack of natural light means it is not one of the prettiest Paris dining rooms. We had some very fine food indeed mixed in with a few (relative) slips. A simple red mullet with courgette flower and yellow pepper sauce was spectacular, an example of French three star cooking at its finest. By contrast a lobster dish had slightly over-cooked lobster, an odd slip given the generally superb technique on display. Desserts, such as the the ten hour cooked apple (see picture) were of the very high level that top restaurants in France seem to manage with aplomb and restaurants in the UK so rarely come close to.
Overall the cooking was of a high standard, though the service was efficient but rather cold. However the bill was crushing, even if I ignore the dismal exchange rate that the pound now commands against the euro. You can do better in Paris for the money, though even this is not the costliest meal that Paris has to offer. My friend Scott went to Guy Savoy that same evening and had the black truffle menu, which set him back a little matter of EUR 480 per person before drinks. Suddenly London seems a bargain, two words that rarely turn up in the same sentence.
At the other end of the price range, the
Harwood Arms
is a superior gastropub with prices that are very fair indeed. Head chef of the Ledbury Brett Graham is co-owner; he has managed to rustle up an ex-Ledbury chef (Stephen Williams) to cook here, and it shows. Venison is apparently mostly shot by the owners on a Berkshire estate (they also own the Pot Kiln in Berkshire), and kitchen technique is of a different level entirely from almost any gastropub that you can name. In particular a simple bar snack, a Scotch egg, was a thing to behold, cooked to order with a soft cooked egg at the centre. Dishes are well composed and a rhubarb and ginger dessert was a fine example of British food. There were some blemishes the evening I visited but this is a place showing considerable talent and care in the kitchen.
This was my third visit to
Helene Darroze
at the Connaught since its opening in 2008. The cooking here is ambitious, and you do not want for nibbles, amuses bouche, and even little extra dishes between the starter and the main course. Technique is generally to a high standard, and flavours are full-on, which I enjoy. I found my first meal here, when Ms Darroze was in the kitchen, the best, and the meal this week fluctuated in standard somewhat. A lobster starter was superb, as was a venison main course, but other dishes were not uniformly to that level. Based on the average of three visits, 7/10 seems the correct mark, and I have adjusted the web site accordingly. Michelin's one star rating in the 2009 guide seems about right, though there are certainly dishes that lift the meal above this level; just not all of them.
Haandi
is, for me, one of the best three Indian restaurants in London (the others being Tangawizi and the Brilliant). Michelin choose to sprinkle stardust on some curious Indian places, the common denominator seeming to be smart settings and high prices, but I would rather eat the food at Haandi any evening over the likes of Vineet Bhatia or Benares, and paying less than half the price doesn't hurt either. Vegetarian dishes are a real strength here, as is the tandoori cooking: tandoori fish was succulent and tender, while chicken tikka is a different beast entirely from that served at your local high street place. You don't come here for the décor, but this is authentic Punjabi cooking.
With all the press about Michelin this week it was easy to miss the AA Guide. It is not a guide that I follow closely, but it is interesting to note its differences. The system is one of up to five rosettes. The only places that get five rosettes are:
The Fat Duck
Manoir Aux Quat' Saisons
Foliage
Petrus/Marcus Wareing
Tom Aikens
Gordon Ramsay
Which is quite an interesting list, a little generous to Foliage perhaps, but otherwise at least defendable; no Waterside Inn, rightly in my view. With four rosettes are:
Aubergine (it was going so well until then)
The Capital
Chapter One
Locanda Locatelli
Pied a Terre
Sketch
The Square
The Latymer
Champignon Sauvage
l'Enclume
Fischers at Baslow Hall
Gidleigh Park
Hambleton Hall
Juniper
Midsummer House
Sat Bains
The Vineyard
Waterside Inn
Whatley Manor
Andrew Fairlie
Martin Wishart
Bohemia
Michael Deane
I find the oddest thing in the AA Guide is that Le Gavroche gets just three rosettes, and yet for me this is probably overall the best restaurant in London. What bright spark at AA thinks that the Aubergine is better than Le Gavroche? Also, though only published this week, this still manages to list the firmly closed Noisette. It is not a happy time for the AA Guide, which has recently pushed its inspectors to sell "consulting" to entrants, apparently on how to get higher ratings. This represents an obvious inherent conflict of interest, as reported in some
detail
by The Caterer.
Oh well, new editor Andy Turvil can hopefully sort it all out next year. Andy used to edit the Good Food Guide, and essentially has swapped with Liz Carter, who used to be the AA Guide Editor and is now the Consultant Editor at the Good Food Guide. He is a good guy, and I wish him well.
If you want to compare the various UK guides there is a useful web page on Simon Carter's excellent site:
Fishworks in Chiswick has also closed, with just four of the chain's branches surviving, under new ownership. A great shame, especially for the staff involved but also to those of us who shopped there regularly. I hope the helpful staff there swiftly find other gainful employment; fishmonger Elijah at the Chiswick branch provided a fine example of what customer service should be all about.
There is confusion about what appeared to be the latest victim of the recession is the Devonshire in Chiswick, reported as being up for sale, but this then being denied days later by the Gordon Ramsay empire. I have always had perfectly good food there (though prices were a little high for what it was), but it is in a very difficult location, a long walk from the Chiswick High Road. I'm not sure what the truth is, but prior to this reported sale there had been trade rumours of poor business there. We shall see.
This week (subject to the vagaries of TV editing) I should appear on Market Kitchen being interviewed by Matthew Fort; I think it will be at the end of the episode. This will air on the UK TV Food Channel on Wednesday 28th January at 7pm (and then repeated at 10pm).
The blog will be a day or two late next week, as I am off to India for some winter sun. Curry may be involved.