This week includes Japanese food in a Brentford boozer
Saturday, June 16th , 2012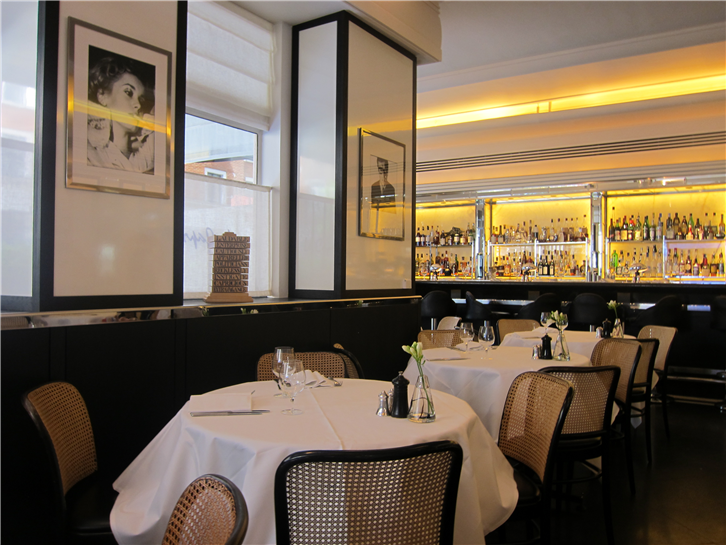 I tried two long-established restaurants this week: Signor Sassi and Le Caprice, both with loyal followings. Signor Sassi serves traditional Italian food in Knightsbridge, Le Caprice traditional British food a few doors down from the Ritz. There the comparison ends. Signor Sassi delivered some distinctly variable food, ranging from acceptable to downright bad, in a cramped setting with some of the most inept service I can recall in a long time. Given that its prices are comparable to nearby Zafferano, it is hard for me to grasp how it stays in business. The waiter/manager dealing with us seemed far too busy flirting with the female couple on the next table ("the special tonight ladies: it is me of course, ha ha" was one cringe-inducing example) to actually, you know, take our order or remember who had ordered what.

Le Caprice, on the other hand, is a very smooth operation, with a smart dining room, courteous and efficient service, and consistent cooking. To be sure, this is not the kind of place that is going to push any culinary boundaries, and for that we can be grateful. The London fashion these days appears to be to eat your food in what looks like an abandoned warehouse, preferably featuring either foraged food or burgers (possibly both), with deafening music whilst sitting on chairs that could have been designed by Torquemada. Le Caprice offers a pleasant haven for those wanting to eat recognisable dishes, capably cooked, in a pretty dining room (pictured) with efficient waiters. Long may it continue.

The Waterman's Arms is a pub in Brentford with a chef who lived in Japan for several years (he has a Japanese wife). The intriguing consequence is that the menu is a mix of pub staples and Japanese food, with fish and chips on the menu alongside tonkatsu. All the dishes that we tried, of both styles, were competent, though the Japanese ones were more interesting and, I suspect, where the chef's heart really lies. Of course trying to make a living knocking out Japanese comfort food in an old boozer next to a Premier Inn in Brentford is nothing if not challenging. Still, the regulars seemed happy enough, and I hope he finds a wider audience for the Japanese dishes that he clearly enjoys making. Maybe a pub in Ealing (where the Japanese school is) would be more fruitful territory? The nice thing is that the entire meal per person, including beer, was less than the price of the langoustine mush dish (they didn't actually call it that) at Signor Sassi. I wish the Waterman's Arms well.

Alain Ducasse at the Dorchester is one of just four restaurants in Britain with three Michelin stars. Its desserts are the best in London, and its sauces are carefully made. Ducasse kitchens are noted for precision and careful weighing out of every ingredient, and this kind of accuracy is ideal for pastry in particular. The kitchen is on less certain ground in the savoury section of the meal, bringing some ingredients in from France and sourcing others from the UK. Asparagus from Provence tasted great at the meal I ate, but a lobster dish was less precisely cooked. The head chef was away when I visited, which perhaps did not help, but at three star level, and at these prices, everything should be faultless. The aggressive wine pricing means that the bill here quickly becomes very high indeed unless one avoids alcohol, and such high prices inevitably mean that customers are ultra-sensitive, though in fact the food prices here are not excessive by three star standards. Three courses here, even a la carte, would scarcely buy a starter at some Paris three star restaurants. The best strategy seem to be to either not drink or drink something very basic indeed, and just enjoy the high quality food, especially at the dessert stage of the meal.

Next week the blog will be a few days later than usual due to some travel; its normal Saturday slot will vary somewhat in the next few weeks as I will be in assorted foreign locations; food may be involved.