The Latest German 3 Star Restaurant
Saturday, June 18th , 2016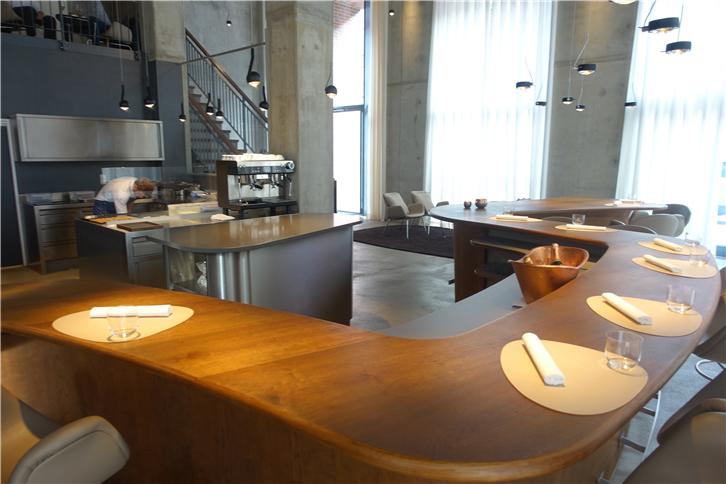 Aglio e Olio is an old fashioned Italian restaurant in Fulham, with a canteen-like dining room but with some ability to cook pasta. I had excellent tagliatelle here, and my companion's squid starter and liver main course were unfussy dishes but ones that were capably cooked. The restaurant even served very good zabaglione, something that seems to elude even some very smart Italian restaurants. As long as you can live with the décor then you could do a lot worse than eat here.
Tor is the latest Thai restaurant to occupy a site that was once the excellent Thai Bistro and became the disappointing Busdara. The food was mostly competent in an unexciting way, though the service was puzzlingly grumpy. It is surprising just how hard it is to find decent Thai food in London, despite the quite large number of places that serve it. I will just have to keep going back to the Patara group, whose restaurants are not cheap but do understand how to serve nice Thai food and have waiters that actually smile. I should also mention the very authentic Heron.
The new 6 Portland Road in Holland Park is an enjoyable neighbourhood restaurant serving modern British food. I particularly liked a turbot dish with a proper beurre blanc, as well as an accurately cooked red mullet dish. West London has far too few restaurants of this calibre, and so 6 Portland Place is a most welcome addition to the local dining scene.
The Brilliant has been a regular haunt of mine ever since I moved to the west side of London in 1991. Its Punjabi food is authentic and generous in quantity, the portions designed for Asian families. I am particularly fond of their methi murgh, the chicken in a rich, spicy sauce with plenty of fenugreek, but their vegetarian curries are good too. For about £25 a head you get an excellent meal and enough food left over for another complete meal at home, so what is not to like? Ignoring price, I think the food here is actually better than some of London's posh Michelin-starred eateries.
Of the current crop of 113 three Michelin star restaurants in the world, there were until this week three I had not been to (the others are Geranium and Maeemo). The latest one in Germany is Kevin Fehling The Table (pictured) in Hamburg, the first solo venture of the chef who used to be at Belle Epoque near Lubeck. The atmosphere here is very different from the usual formality of German fine dining restaurants. Here is a former industrial building with an open kitchen and a solitary table that snakes through the dining room, with 20 chairs arrayed around it. There are no waiters, the chefs delivering the dishes to diners directly. In the modern fashion there is no choice of food, just a single tasting menu, though they will try and adjust for dietary preferences. Mr Fehling's food could never be accused of simplicity, and dishes generally have a lot of components, but he does have a real grasp of flavour balance, so the various dish elements do actually contribute something useful. I liked the savoury dishes a lot, though I struggled, as I usually do, with the savoury "desserts" involving such joy as aubergine and miso sorbet with matcha and melon. The places has been highly successful, booked for many months ahead, so if you fancy going then you need plenty of advance notice.
The San Pellegrino Top 50 came out, this time switching its event from London to New York. This list, which started out as a one-off article in a fairly obscure UK magazine called Restaurant, has become a media phenomenon. Getting a coveted position can have more impact on a restaurant's reservations than an extra Michelin star, so it is not surprising that chefs have been keen to support it. I won't rehash the objections to the list at length. Basically the panel is split three ways between chefs, journalists and diners, 977 in all; each vote for seven restaurants, three of which must be from outside their own country. The methodology has ended up favouring fashionable, modernist restaurants at the expense of classical ones, and is controversial for many reasons, one of which is that panellists do not have to prove they have actually paid for a meal in (or even been to) the restaurants they voted for, so there is an obvious danger of chefs just voting for their mates etc. The final results are easy to criticise: is Mirazur really the restaurant in France? Is Tim Raue's restaurant, nice as it is, really the best restaurant in Germany? Are there really more top restaurants in Mexico than Japan? Really? The omissions are glaring. Hotel de Ville, number 1 in the world on La Liste, is not even in the San Pellegrino top 100, never mind top 50. Others not in the top 100 include fabulous restaurants like Pres des Eugenie, Pic, Louis XV, Mizai, Kitcho, …… I wrote about this a couple of years ago.
This means that actually paying too much attention to the specifics of the San Pellegrino list is a recipe for frustration. For the UK, representation is with The Ledbury (14), Clove Club (26), Dinner (45), Hedone (60) Lyles (65) and St John (91). If you ponder this set and the omissions from it just imagine if you live in France and see your only top 50 entries as Mirazur (6), Arpege (19) and Septime (50). The more you look at it, the more absurd it appears. However at the end of the day the list gets people talking about high end dining, and generates interest in, and revenue for, ambitious restaurants, and that is a positive thing. Just don't rely on it as a definitive list of the best. Most fashionable yes, the best – no.