Ninth Time Lucky
Saturday, January 23rd , 2016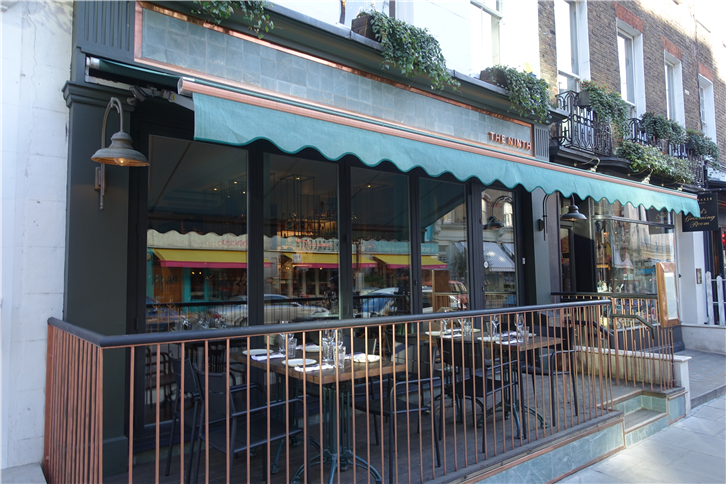 The Ninth is the first restaurant owned by Jun Tanaka, who trained at some very serious restaurants in his early career and until the end of 2012 was running Pearl. After a lengthy hunt he finally found these Charlotte Street premises but is not offering the classical fine dining that has been his trademark. Instead this is a more casual "small plates" place with the exposed brickwork, uncomfortable chairs and mock Scandinavian décor that was in fashion when he started looking for premises. Luckily the food is better than the surroundings, with an excellent cured mackerel dish and hearty salted beef cheeks with charred cabbage. It seemed to be doing well at this lunch time visit.
Hakkasan Mayfair is a remarkably consistent restaurant given its considerable size and relentless turnover of customers. At this latest visit we had a couple of exceptional dishes: langoustine wrapped in glass noodles and lobster in spicy black bean sauce. We also experienced some pretty remarkable service the highlight of which is explained at the end of my review. Hakkasan is never a bargain, but the food and service are top notch.
The Ledbury served me a particularly good meal this week, confirming its status as one of London's top high-end restaurants. The standard of food was more consistent than it has sometimes been in the past. As well as the classics like flame grilled mackerel, there was an inventive dish of candied beetroot with eel and excellent muntjac deer with red leaves. Service is always silky smooth here and although it is not a cheap experience there are very few places in the UK where you will encounter food of this standard. It shines like a beacon amongst the capital's often disappointing starred restaurants.
I don't review pop-ups, since they are often gone by the time you read the article and have a chance to act on it, but I did visit an interesting one this week. At a Soho pub called The Sun & 13 Cantons (the name is due to some 18th century connection to Swiss wool traders, don't ask) is a pop-up called Darjeeling Express. It serves the home cooking of Calcutta, and is run by an interesting lady called Asma Khan. She was a barrister before deciding to try making a go of food as a career, and hopefully the evident success of this pop-up will enable her to get investment for a permanent venture. This was my second visit here and the food is excellent, from well-made cocktail samosas to methi chicken and less familiar dishes like a spiced Bengali beetroot croquette and venison kofta. A whole meal here would scarcely buy you a single dish at Gymkhana, and the food here is arguably better. It runs until the end of March – do yourself a favour and give it a shot if you are in central London (reservations are required).