Dining in Delhi
Saturday, March 22nd , 2014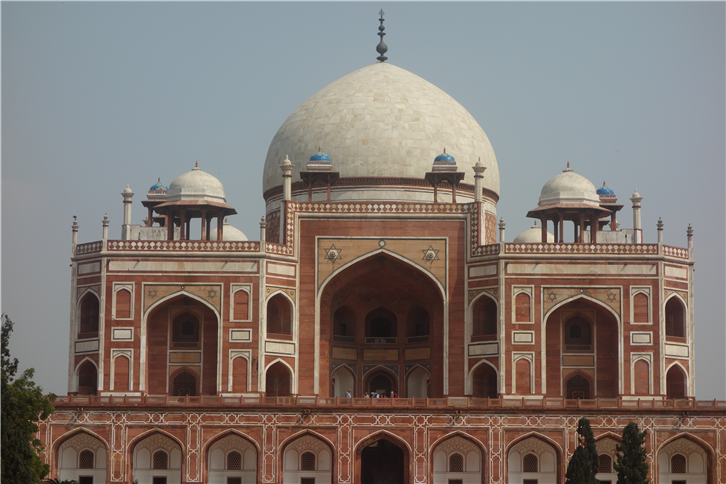 This was my 18th visit to India, but I had not been to Delhi for many years. The airport is much improved, and this city of around ten million is as lively as ever. We stayed at the Leela Palace in New Delhi, a city within a city that was designed by Edwin Lutyens and is tranquil and orderly, with long straight roads and lots of greenery. Old Delhi is none of these things. As a visitor there is plenty to see, such as the tomb of Humayan (pictured) and the Lodi Gardens, amongst others.
We ate at a few restaurants. The Qube is the basic restaurant at the Leela, and was harmless enough but not somewhere you would visit unless staying at the hotel. Le Cirque is a sister of the New York original, this one serving Italian food. It was decent enough though hardly cheap, though at least the service was less overbearing than the New York original. Jamavar is the fine dining restaurant of the Leela, and I was a little disappointed by it. The food was pleasant enough, but the other Jamavars at which I have eaten, in Mumbai and especially in Bangalore and Goa, were really special, and this was merely capable.
The two highest rated restaurants in India in the San Pellegrino list are Bukhara and Dum Pukht. Both are in the ITC hotel, and both are quite old fashioned. Bukhara tries to conjure up the image of the rustic northwest frontier of India, so you sit on stools, order from a board and eat with your hands. The food was actually better than I remember it from a visit many moons ago, with very tender malai tikka, though it is far from being dazzling food. Dum Pukht is a little more sophisticated, again focusing on north Indian food. The service feels very old fashioned, and presentation of dishes an afterthought, but the cooking was good, the star dish being a superb biryani.
The best meal of the week by far was at Indian Accent. This restaurant, open nearly five years, has gained an enviable reputation and is very interesting in its cooking. Indian food is varied but in restaurants in India is very traditional, and I have long wondered what would happen if someone took a more modern approach to it. The chef here is not afraid to mix in western ideas and ingredients, as with a duck cornetto topped with foie gras. Dishes are attractively presented and often have unusual ingredient combinations, but in all cases the flavours were harmonious and the combinations successful. Dish after lovely dish came in a tasting menu that was priced at, wait for it, £26 (less for a vegetarian version). This was some of the very best Indian food that I have eaten, up there with the quite different Falaknuma Palace. It is great to see a chef taking Indian food beyond its traditional roots but in a respectful and skilful way. I would return in a hearbeat.