From Apero to Apsleys
Saturday, August 17th , 2013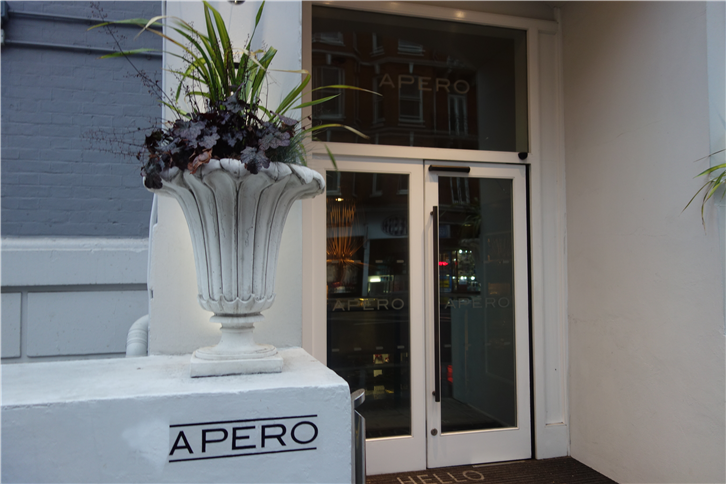 Apero is tucked away in the basement a boutique hotel (pictured) near South Kensington tube, which on the face of it is a rather unpromising location. However its team in the kitchen have some pedigree, with Chris Golding having been head chef of the short-lived but enjoyable Galoupet, his pastry chef having previously worked at Nobu. The food is described as "Mediterranean", which leaves plenty of scope, and I enjoyed a pretty salad of kohlrabi and apple and a good beetroot risotto, while the desserts were genuinely good.
I had a tasting menu at Apsleys, which showed off the skills of its new (ish) chef Heros de Agostinis. Highlights included Sicilian prawns served with maccheroncini, baby broccoli and saffron, and also a lovely dish of venison cooked in yoghurt with crispy purple potatoes and salsify. Desserts are a strong suit here, and a plum tartelette and Armagnac ice cream was lovely. This is a restaurant that I have eaten at many times now, and for me it is easily the best Italian restaurant in London. I like the airy dining room, especially at lunch, and the only drawback is the costly winelist, though the sommelier is adept at guiding diners to obscure corners of the list with more acceptable markups.
I returned to Swagat, which had impressed me a few weeks earlier with its high quality Indian food in an unpromising location on Richmond Hill. Tandoori cooking here is skilful, and the black dhal at this meal was as good a version as I have ever eaten, including in India. The décor is basic and the tables cramped, but this is a place whose food is up there with the better Indian restaurants in London, based on my two visits.
Diwana Bhel Poori is an old favourite, producing very good Gujerati snacks for a ridiculously low price. It is a very basic place in terms of decor and service, but you eat your fill of excellent bhel poori. samosas and aloo papri chat, have some lassi to drink and a kulfi for dessert, and still end up with a bill of £12 a head.
I did a short video interview for Elite Traveler magazine, and also an article on the ultimate meal.