Reviews and Michelin news
Saturday, November 24th , 2012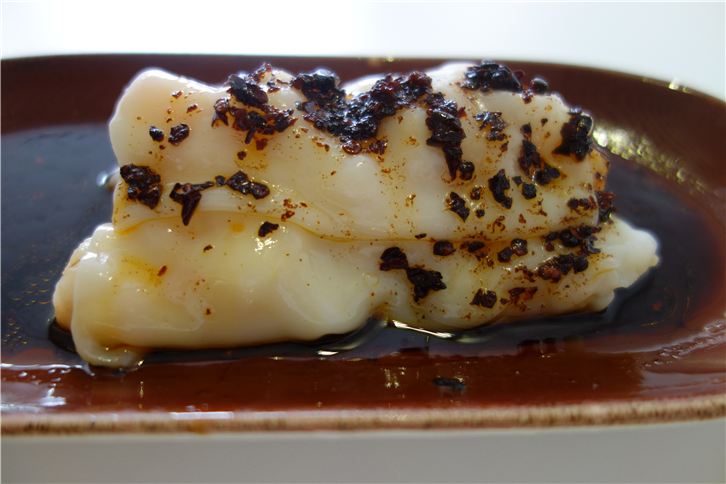 The Dragon Palace is an unassuming Chinese restaurant on the Earls Court Road that has built up a reputation for its dim sum. This seemed fully justified to me when I visited this week. The standard steamed dumplings such as har gau were delicate, the char sui was fluffy and the cheung fun (pictured) unusually good; only a somewhat dry paper prawn dish was less good. Most of the dim sum dishes are around £3.50, which is very fair indeed, so Dragon Palace is well worth considering if you need somewhere to eat around Earls Court, an area not exactly blessed with good restaurants.

Khans has been on Westbourne Grove since 1977, and when I first came to London it was just one of a string of Indian places in that street (most of which have since become assorted Middle eastern restaurants). It is a huge place with considerable turnover, so is not somewhere you go for a romantic meal or loving, attentive service, but the food is pretty good and fairly priced. Naans are better here than most places, and a chicken biryani had good quality rice, though there was one poor prawn dish. There are certainly better Indian restaurants in London, but I have a nostalgic attachment to Khans.

The Hand and Flowers in Marlow gained a Michelin star in 2006 and a second star in 2011. I went a couple of years ago and, although the meal I had was fine, it seemed a little less than one star level to me. Given its elevation to two stars it seemed that I should revisit in case it had raised its game. Indeed one foodie that I trust told me that it was now cooking much better than in 2010. Well perhaps it is, but not in the dishes that I ordered on my revisit this week. There was one very good duck dish with excellent chips made from duck fat, and that was clearly in Michelin territory. However an apple tart without much apple and some over-salted broccoli were clearly not, and when I complain about over salting you know things have gone seriously awry, as if Gregg Wallace had said he didn't like a dessert. Other dishes were merely pleasant, and certainly I didn't dislike my Hand and Flower meal, I just don't understand Michelin's assessment. At the very least, there is a level of inconsistency, which it is hard to reconcile with a two star restaurant, and would not happen in genuine two star places like The Ledbury or Le Gavroche.

Diwana Bhel Poori is a vegetarian café in Euston that I am particularly fond of, having been going there regularly since I came to London in 1983. Not everything there is good, and if you order one of the curries then you will be disappointed, but if you stick to the South Indian dishes you will have a good time: bhel poor and aloo papri chat are as good here as at restaurants many times the price, and the dosas are fine too. Diwana has uncomfortable seating and the most basic of service, but it is nearly impossible to spend more than £12 a head, and how many places in London can you say that of?

The 2013 Michelin guides for Belgium, Luxembourg and Switzerland came out this week. There was no change at the three star level, whilst in Belgium there was a new two star called La Duree. In Switzerland there were two new star places Stucki and Ecco on Snow. The updates list of 3 stars is here and the map of them all is here.

There was more excitement with the 2013 Spain guide. Two new three-star places: Quique Dacosta in Denia (near Alicante) and Azurmendi near Bilbao, which has had a meteoric rise since it opened five years ago. There were also two new two star restaurants, Moments and Enotyeca. There are now 7 three-star, 17 two-star (unchanged) and 123 one star (up 6) restaurants in Spain. In Portugal there are still a pair of two-star restaurants and now nine one star restaurants (down one). The Netherlands 2013 guide comes out next week, and to follow will be the guides to Hong Kong, Tokyo, France and Hokkaido.