Christmas Dining
Saturday, December 30th , 2017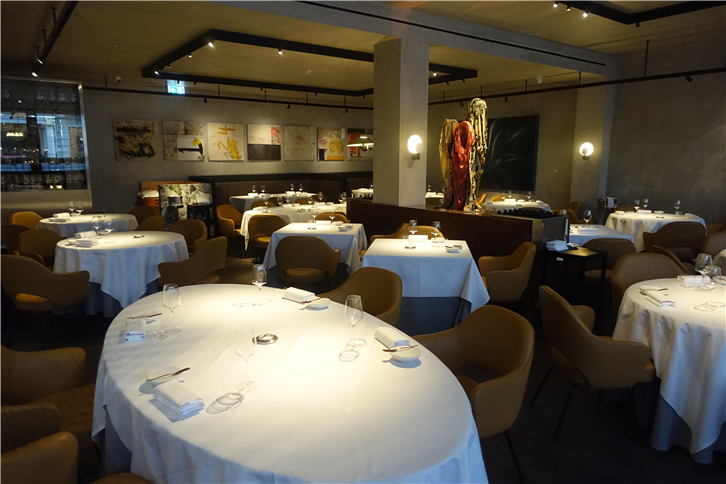 The Square changed hands some time ago, but there has recently been a chef change, and a refurb (pictured). Now Clement Leroy from Paris is in the saddle, the pastry section headed up by his wife Aya Tamura-Leroy. The highlights for me were the desserts such as chocolate gran cru with pistachio and red shiso. The savoury dishes were less satisfying. For me the kitchen is trying too hard to show off exotic flavour combinations, such as marinated langoustines with hibiscus foam and cauliflower semolina, where the lovely langoustines were overpowered by the hibiscus flavour. A red mullet was nice in itself, but the dish spoiled by an accompaniment of graffiti aubergine that should have a creamy quality but was just hard and chewy. Sweetbread with marinated squid and pomelo was the best savoury dish, and showed that the kitchen could actually cook a pleasing dish when it wanted to. Overall, though objectively a good meal, this was not really what I was hoping for given the lineage of the chef, and at this steep price point any flaw is magnified.
Hedone is a great favourite of mine, its lawyer turned chef Mikael Jonsson cooking some of the most interesting food in London, and most certainly using a quality of ingredients rarely seen in the capital. This was my 71st meal at the restaurant. A highlight of this latest lunch was a crab dish that has been on the menu for some time but has recently been an improved even further. Crab is cooked from live and served in a consommé of crustaceans; it is this last element has been tweaked, now using langoustine as well as lobster shells and velvet crabs to give additional depth of flavour, finished with hazelnut mayonnaise, apple and aromatic oil of parsley and horseradish – this dish is bordering on perfect. The lengthy tasting menu started with a cornet of vitello tonnato, beetroot and foie gras nibble, then poached rock oyster with Granny Smith apple foam, cucumber sorbet and oyster leaf. Seafood royale with impressive texture followed, including smoked eel jelly and sea plankton. Then came duck foie gras terrine with black truffle and toast, then the glorious crab dish. A bitter leaf salad with black truffles, walnuts and pumpkin puree was next, along with pickled Jerusalem artichoke. Simple but gorgeous lightly cooked scallops with ponzu jelly followed, then superb red mullet with kombu jelly, spices and a saffron flavoured fish sauce. The first meat dish was a fabulous sweetbread with pennywort sauce, apricot puree, dehydrated carrots and beef demi-glace. Scottish teal came with purple kale and cherry, and the last savoury course was hare royale. This came with chestnuts, foie gras from Chalosse, quince, mushroom and a rich sauce made from the blood of the hare. Pre dessert was white chocolate mousse with coconut biscuit, lime mousse and mango jelly. The main dessert was fabulous millefeuille with a drizzle of Balsamic vinegar, caramel and redlove apple sorbet. I should of course mention the glorious sourdough bread, made on the premises. Hopefully this gives you an insight into what a tasting menu here involves. No one is serving better food than this in London.
We usually cook at home at Christmas but for a change this year went to Darbaar, one of the best Indian restaurants in London. They produced a very enjoyable meal, with starters of assorted tikka and kebab dishes, or vegetarian alternatives, as well as spiced goose with a side of butter chicken for the main course. Breads are always a strong point here, and the vegetarian options throughout the meal were uniformly good. If you don't know Darbaar then it is well worth your time, tucked away in a slightly tricky location near Liverpool Street station, between Snowden Street and Worship Street.
Happy New Year to everyone.